Watch as the cheese oozes into this sumptuous dish. Weeknight dinner just got a serious upgrade!
ALSO SEE: Healthy pasta hacks to keep in your back pocket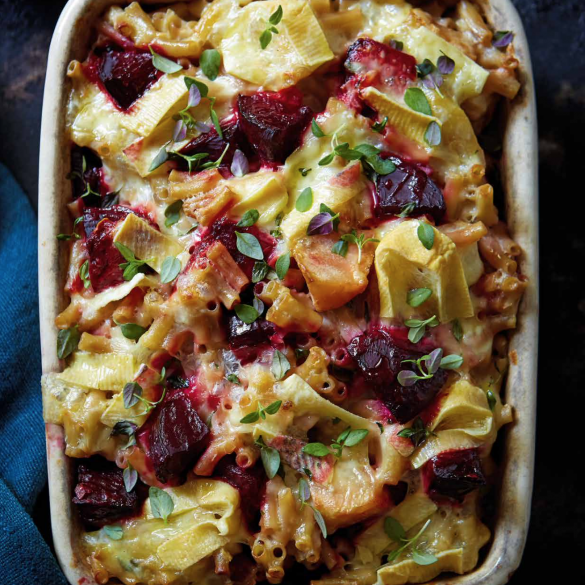 Ingredients
3 beetroot, peeled and cut into bite-sized chunks
400 g celeriac, peeled and cut into bite-sized chunks
300 g macaroni
25 g butter
3  shallots, finely diced
25 g flour
500 ml milk
1⁄2 tbsp Dijon mustard
2 tbsp thyme, leaves picked
150 g reblochon cheese, cut into 12 × 1.5 cm-thick squares
Instructions
Heat the oven to 190°C. Put the beetroot and celeriac into an ovenproof pan. Cover with cold water, add 2 tsp salt, then bring to the boil and cook for 15 min. Add the macaroni, top up the water and boil for a further 15 min. Drain in a colander.
 Return the pan to the hob and melt the butter. Fry the shallots until soft. Stir in the flour then add the milk, a
little at a time, as the sauce thickens; stir constantly. Once all the milk is used and the sauce is the consistency of double cream, stir in the mustard, and season with salt and pepper. Remove from the heat, add the thyme, and return the pasta and veg to the pan. Mix well and smooth the surface.
Arrange the cheese over the top and bake for 30 min.
Notes
You can use any melty cheese in this recipe. Goat's cheese would also work.
ALSO SEE:
Feature Image: Woman&Home