Photo by Steve Granitz/WireImage
13 years later, we will cry through a whole box of tissues once more as a PS I Love You sequel has been confirmed. The original Hilary Swank and Gerard Butler blockbuster hit screens way back in 2007. Since then, the film has made it onto must-watch lists among the likes of The Notebook, Romeo + Juliet, Pretty Woman, Dirty Dancing and Titanic. And when writer Cecelia Ahern  penned a second novel, fans were desperate for another film. Over a decade later, we now have confirmation that we're in for yet another romantic tear-jerker.
ALSO SEE: 10 Bestselling Books From The Last Decade That Have Become Absolute Classics
What we know so far 
The film sequel will be adapted from the novel Postscript. A (spoiler-free) summary of the novel reads: "It's been seven years since Holly Kennedy's husband died – six since she read his final letter, urging Holly to find the courage to forge a new life."
Also, "She's proud of all the ways in which she has grown and evolved. But when a group inspired by Gerry's letters, calling themselves the 'PS, I Love You Club', approaches Holly asking for help, she finds herself drawn back into a world that she worked so hard to leave behind."
It's taken seven years to reinvent herself, and Holly's ready to move on with her life. But she comes to realise that when you love someone, there's always one more thing to say.
Will Hilary Swank return? 
The question on everyone's lips is about the leads. Can we expect Hilary in the sequel? In short: yes! During an interview on Irish radio, Cecelia said that she was "delighted" that Hilary Swank had agreed to return to the film series.
She said, "There will be a Postscript movie. One of the first people to email me when she heard the news was Hilary Swank. She was so excited, she wanted to read the book and she said, 'I would love to support you in any way, shape or form'. Then she read the book and she said 'I want to make this movie'."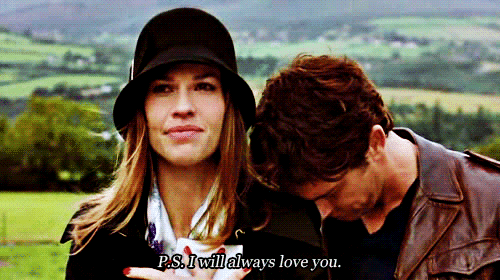 Postscript, the novel
PS I Love You was released in 2004, with the film adaptation coming out in 2007. Its sequel Postscript was published in September – but it's not yet known when exactly the screen version will follow.
Speaking about the success of PS I Love You, Cecelia revealed she was nervous about writing a sequel. She explained, "I said I'd never do it from the beginning, from the moment I wrote PS I Love You people were asking if I'd write a sequel and there were so many reasons why I wouldn't."
"I had brought the character to exactly where I wanted to bring her, I couldn't see what the story would be. Also just because something's a success doesn't mean you should necessarily write a sequel. And I didn't want the thing that made my career to be the thing that breaks my career!" The author explained.
Postscript is on shelves now, and is available at your nearest Exclusive books or their online store.