A hot frying pan is the best way to recreate a wood-fired-style pizza in your own kitchen – and it's much easier to master than you might think!
ALSO SEE: Try this perfectly simple & delish 'pantry pasta'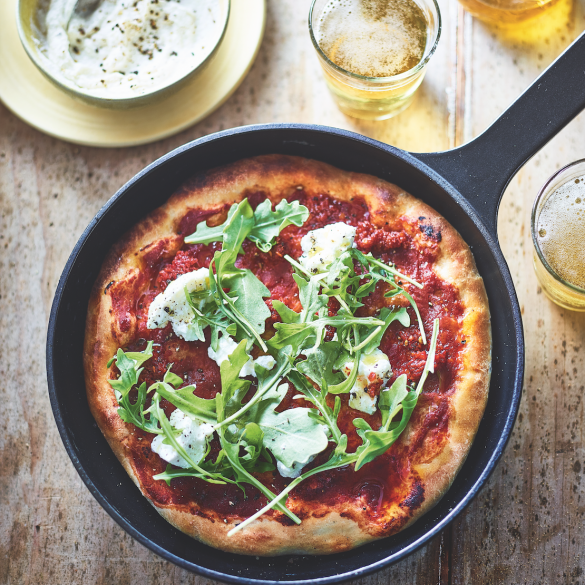 Ingredients
500 g strong white flour, plus extra to dust

7 g sachet dried active yeast

1 tsp fine salt

1 tsp sugar

325 ml lukewarm water

250 g ricotta

Grated zest and juice 1⁄2 lemon

Olive oil for frying, plus extra, for rolling

300 g passata

80 g 'nduja, crumbled

12 cherry tomatoes, sliced

Rocket leaves

You will need also need a 23 cm skillet (ovenproof frying pan)
Instructions
1 Put the flour, yeast, salt, sugar and water in the bowl of a stand mixer fitted with a dough hook and knead for 5 mins to make a soft dough. Lightly cover the dough and leave to prove for 1–2 hrs, until it has doubled in size.
2 Meanwhile, whisk the ricotta for 2–3 min until light and airy. Add the lemon zest and juice, and a large pinch of salt, and whisk again for a further 2 min. Cover and chill until ready to serve.
3 Shape the dough into 4 even-sized balls, then stretch or roll each one out on a square of oiled baking paper into a 23 cm round.
4 Heat the skillet over a high heat and heat the grill to high. Carefully lift a disc of dough off the paper and into the hot pan, adding a little oil if needed. Spoon over a quarter of the passata, spread it out with the back of a spoon, then sprinkle over the 'nduja. Cook for 5 min, then pop under the grill for a further 3–4 min until puffed and completely cooked through.
5 Scatter over the tomatoes and rocket leaves, and serve with the whipped ricotta for spooning over.
ALSO SEE:
Feature Image: Woman&Home