Homemade chilli oil is great for cooking with an added dash of spice when added to salads and pestos, or even just on a slice of sourdough toast!
ALSO SEE: Try these trending Big Mac smash tacos
Chillis are an acquired taste and not every palate takes to spicy food, but for those who do, this recipe makes a game-changing add-on for your favourite broths, stir-fries, noodles, fried rice and so much more!
TikTok user @christieathome shares her recipe for Chinese chilli oil, we've summarised below.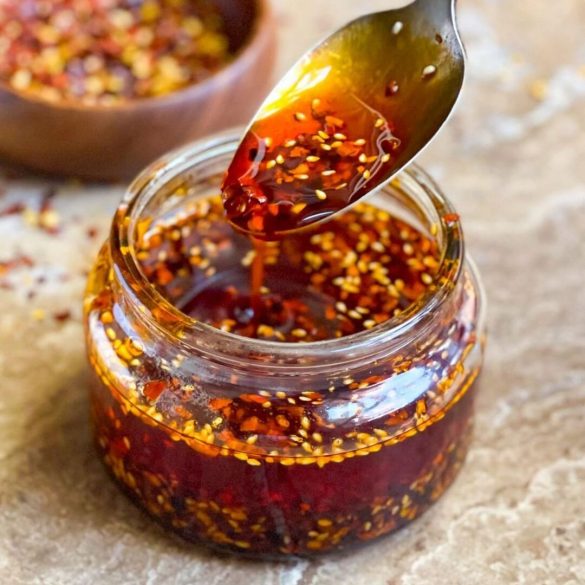 Ingredients
1.5 cups Sichuan chilli flakes

3 cloves garlic finely minced

2 ½ cups avocado oil or neutral oil

¼ teaspoon Sichuan pepper powder

3 teaspoon salt

4 slices ginger

1 small yellow onion quartered

4 star anise

2 bay leaves

1 cinnamon stick

5 cloves
Instructions
ADD 1.5 cups red Sichuan chilli flakes, 3 cloves of minced garlic, 1/4 teaspoon Sichuan pepper powder and 3 teaspoons of salt to a heat proof bowl.
ADD 2.5 cups avocado or neutral oil to a pot on stovetop on low heat.
ADD 1 quartered onion, 4 slices of ginger, 4 star anise, 1 cinnamon stick, 2 bay leaves and 5 cloves to oil and mix.
SIMMER aromatics in oil for 20 minutes on low heat.
REMOVE and discard aromatics.
POUR hot oil over the chilli flake mixture in heatproof bowl and immediately stir to prevent burning.
LET cool and transfer to resealable jar and store for up to 2 months. Voila!
ALSO SEE:
Feature Image: Instagram / @thehealthyrasoi