The pursuit of wellness continued to enjoy exponential global growth in 2021 and shows no signs of stopping in 2022. This is especially true in the home, our sanctuaries but still a home office for many – me included most days!
That's where the new AURA Wellness Range of ultrasonic diffusers comes in. When it comes to boosting your mental health and emotional wellbeing, the quality of air in your home plays an important role. After testing out the AURA Synergy Wellness diffuser in my own home – and home office – I can personally attest to this.
You know that smell when you walk into a spa? You know how as soon as you step into the spa and nose the aroma your tension immediately starts dissolving? It is remarkable what a powerful impact the right scent can have on us. This is why I have always been on the hunt to achieve that spa-like scent in my own home. And thanks to the new Aura Wellness Range I have finally been able to.
What is the AURA Wellness Range?
AURA is the leading ultrasonic diffuser, home fragrance and commercial scenting brand in South Africa. Their ultrasonic diffusers break down essential oils into tiny molecules and simultaneously produce a vapour. This is to evenly disperse essential oils and water into the air for ultimate dispersion. The result is a lovely aroma that maintains the health benefits of the oils because the AURA products are flameless, smokeless and heatless.
Along with being internationally and South African government compliant, safety is never an issue. Every day I just put it on and let it go!
Each ultrasonic diffuser in the Wellness Range has its own special features. The Synergy Wellness diffuser's innovative design offers a double water tank, meaning you can blend two different essential oils to create your very own personalised scent. The unique top button gives you full control of each aspect with the lightest of touches. You can choose to use both tanks or just one, make the warm lighting below the tank glow and change the intensity of the mist to suit your space. Simple and modern wellness by design. It is what AURA is best at.
ALSO SEE: The AURA Tranquility Aroma Diffuser
Why we love it
I have used an AURA ultrasonic diffuser before, and as someone who has a big open living space the Synergy Wellness diffuser is my favourite so far. With the two tanks I know that each of my essential oil blends are equally distributed in aroma. I also have double the tank strength for longer lasting and more powerful use.
(Don't worry, my other AURA diffuser has been put to good use in my bedroom! She's giving me deep sleep, keeping the bugs out and making sure the bedroom is a heaven all of its own.)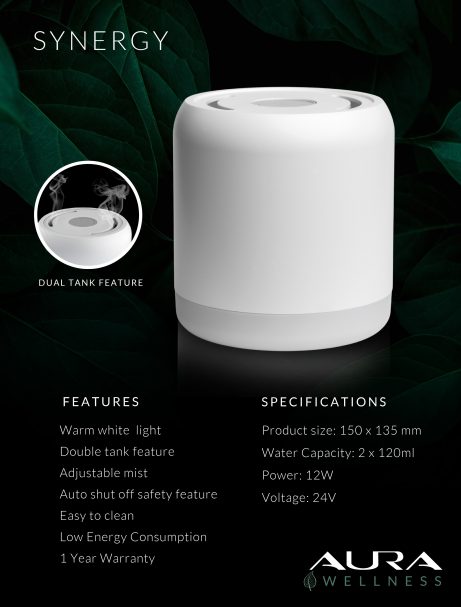 With its focus on wellness, the whole range is low-energy, easy to clean and with an automatic switch off when the water runs low. Safe and pleasant! Plus, there's a whole new addition of sumptuous AURA Wellness essential oils that put air quality and aromatherapy in focus. It's not just about smelling good, it's about what those smells can offer you and your home.
The AURA Wellness Range of essential oils
As my mocha pot sits on the stove preparing my morning cuppa, I start the day with my AURA Synergy Wellness diffuser. I fill both tanks up with water and place a few drops of the AURA Peppermint essential oil in one tank, followed by a few drops of the AURA Orange essential oil in the other. I press the top button three times and let both tanks send this addictive aroma into my home.
ALSO SEE: Top 5 scents that will lift your mood
It is not just the aroma that has me using this blend every day. These premium essential oils from AURA are perfect for those interested in aromatherapy. Peppermint is a refreshing, stimulating essential oil that helps me start my day with focus and concentration. Orange is an uplifting and energising essential oil giving my mood a little boost as I wake up – sometimes it take more than coffee, am I right?  When the end of the day rolls around I change to the AURA Lavender essential oil – a soothing and calming scent to relax and unwind into the evening and some 'me' time.

Other benefits of using essential oils in your AURA Wellness Range diffuser are:
reduce stress and anxiety;
refresh and purify the air;
sooth headaches;
focus and concentration;
mood enhancer and antidepressant;
sleep and insomnia support.
ALSO SEE: 6 Essential oils and their benefits
Using the AURA Wellness Range has allowed me to bring wellness into my home. The Synergy diffuser paired with a variety of powerful essential oils help keep my mind and body in tune with each part of the day. With a few simple steps, and some very good scents, I can easily protect and prioritise my mental and emotional wellbeing during some very uncertain times. And of course, my house smells and feels like a spa.
Feel like your home needs a touch of wellness? You can shop the whole range on their website.
Or look out for them at @home, Home etc., MrPrice Home, Superbalist, Wellness Warehouse and Yuppiechef.