Scent is an important part of how we interact with the world, and so it's no surprise that there are plenty of choices when it comes to making your home smell like heaven. Thank goodness we have moved on from the potpourri days though! Today it is all about aroma diffusers, also known as air diffusers, essential oil diffusers or my home's favourite new addition. Over the past two weeks I have been using the Aura Tranquility diffuser in my home every day. Switching it on has become as much part of my morning routine as making that first cup of coffee.
Aura is the leading ultrasonic diffuser brand in South Africa with a collection of stylish and luxury quality aroma diffusers. Ultrasonic diffusers work by breaking down essential oils into micro molecules that can then be dispersed into the air through a fine mist. This diffusion process is flameless, smokeless and heatless making it totally safe to use. Their diffusers also have an auto shutoff mechanism that automatically switches the aroma diffuser off when a low water level is detected, a nifty feature that ensures safety and longevity.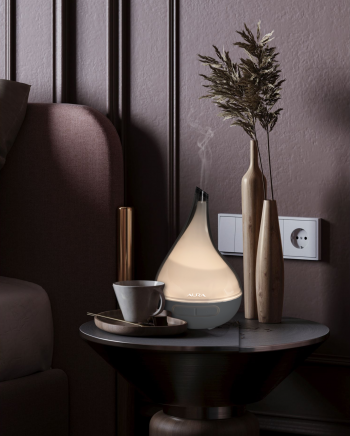 The Aura Tranquility diffuser is super simple to operate, which is why it is so part of my home already (not to mention its sleek design makes it an easy fit as a decor piece too!). To use the Aura Tranquility diffuser all you have to do is remove the top cover to fill the bottom tank with tap water, up to the indicated maximum level, and add 10-12 drops of your chosen essential oil – of which Aura have a beautiful range. The essential oil can be adjusted to your preferred concentration, depending on how strong you'd like your scent to be. I found that a full tank and 10 drops of essential oil worked great for my home and easily lasted the whole day. To get the aroma diffuser going and your your space smelling divine, simply press the mist control button once for continuous misting or twice for intermittent misting. The latter has been the perfect balance for me. By gently pressing the light button once you can enjoy your ultrasonic scent diffuser with the light on in breathing mode, press a second time and the light can be set at your chosen light level, a final press will switch the light off totally.
When it comes to diffusers though, unlike many options available, it is not just about aroma but aromatherapy. It is this that has really made my Aura Tranquility diffuser my favourite new addition to my home and workspace, especially since both are the same thing right now! Using aromatic plant extracts, essential oils are known to improve physical and emotional health. There are hundreds of options and each oil carries its unique healing properties and effects, allowing you to pick a scent based on your mood and needs for the day. Some essential oils work to decrease stress and anxiety, or soothe headaches while others hold antibacterial and antiviral properties to improve the quality of air.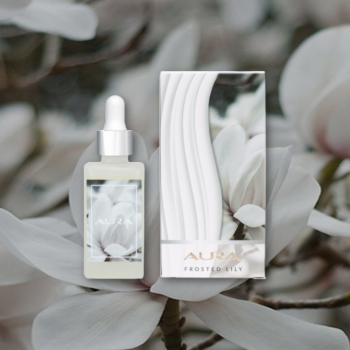 I have been loving Aura's Frosted Lily scent during the day: a calming blend of cassis, cloverleaf and carnation with the underlying earthiness of patchouli and cedar wood. I transcend into a more relaxed and more focused state for work and despite being closed up in the house the air always feels and smells fresh. Some days I have added a few drops of Eucalyptus essential oil which is known to relieve blocked noses and help with coughs. And today I am trying Aura's Northern Lights,  an uplifting blend with notes of gardenia, daisy, fig, citrus and green tea. That's the beauty of an aroma diffuser, it's completely customisable! You are never stuck with just one scent or blend, you can always mix and match to see what you like, or pick according to your mood. With a better smelling home, health benefits and its effortless adaptability the Aura Tranquility diffuser has really redefined life in my home.
You can shop the whole range of sleek Aura diffusers here, find them in store or online at @home, Home etc., MrPrice Home, Superbalist, Wellness Warehouse and Yuppiechef.
Want to learn more about essential oils, here's some extra reading.