Running a tad late with Father's Day preparations this year?  Look no further, we've got you covered with some great lunch ideas to spoil the dad in your life with.
Let's dig in:
Pork ribeye with honey and lemon glaze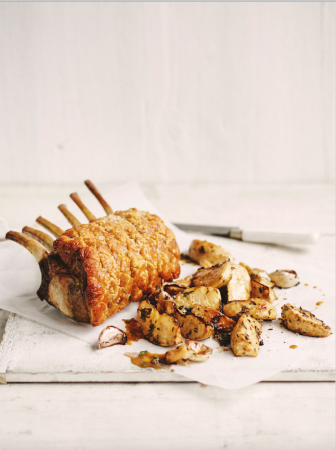 INGREDIENTS 
2 kg pork loin chops, rib eye roast with 6 ribs
30 g sea salt flakes
60 ml olive oil
2 tbsp lemon juice
1 tbsp honey
2 tbsp fresh thyme leaves
2 celeriac, peeled, cut into wedges
1 garlic bulb, cloves separated, unpeeled
3 tsp caraway seeds
½ cup vegetable stock
25 g butter
METHOD
SCORE pork rind at 5mm intervals in a cross-hatch pattern, using a small sharp knife
PAT pork dry with a paper towel. Rub half the sea salt into the rind, vigorously working it into the skin.
HOLD a hair dryer over the pork; move it up and down until the rind feels dry to the touch. Place pork, rind-side up, on a tray lined with baking paper. Refrigerate pork, uncovered, overnight or for up to 24 hours. Stand at room temperature for 20 minutes before roasting.
PREHEAT the oven to 240°C. Tie pork with string between each cutlet. Rub pork with half the oil and the remaining sea salt. Place pork on a rack on an oven tray, rind-side up. Roast for 30 minutes or until rind blisters. (Your oven will smoke, however, you need this intense heat for really great crackling as the rind will not blister after this stage.)
MEANWHILE, combine lemon juice, honey, and thyme in a small saucepan over low heat until the honey is loose. On an oven tray toss celeriac and garlic with the remaining oil, caraway seeds, and half the honey mixture.
REDUCE oven to 200°C/. Roast celeriac with pork for 1 hour 15 minutes or until the celeriac is tender and a meat thermometer reaches 65°C when inserted into the thickest part of the pork. Cover pork loosely with foil; rest for 15 minutes. Strain cooking juices into a jug, and add to the pan with the remaining honey mixture and stock. Bring to a simmer and cook for 5 minutes until reduced by half. Whisk in butter.
SERVE pork carved into cutlets with roast celeriac and reduced cooking liquid.
TIP: You can also ask your butcher to score the meat for you.
Chicken, mushroom and biltong potjie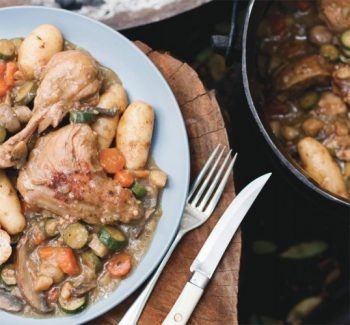 INGREDIENTS
30 ml vegetable oil
2 onions, peeled and finely chopped
2 green peppers, deseeded and chopped
2 large cloves of garlic, peeled and finely chopped
8 pieces of free-range chicken
100 g biltong dust
5 ml fresh thyme
2 large potatoes, peeled and diced into 1cm cubes
500 g baby potatoes, skin on
8 baby carrots
500 ml chicken, beef or lamb stock
500 g assorted mushrooms (a mixture of brown, button or portabello)
250 g baby marrow, roughly chopped
2 tablespoons mushroom soup powder or cornflour (optional)
Salt and pepper
METHOD
HEAT oil in a cast iron three-legged potjie.
ADD onions, green peppers and garlic and cook until soft.
ADD chicken pieces skin side down and brown the meat. Sprinkle the biltong dust and thyme over the chicken and stir to combine.
ADD the diced potatoes, baby potatoes, carrots and stock to the potjie and simmer for 35 to 40 minutes.
ADD the mushrooms and baby marrows and cook for 10 minutes.
THICKEN the sauce by mixing the mushroom soup or cornflour with a quarter cup of hot water and stir into the pot. Allow to cook for another 5 to 10 minutes.
SERVE with rice or chunky slices of fresh white bread to mop up the sauce.
TIP: When cooking on coals try to have two fires burning, using one to cook food and the other to provide extra hot coals.
Duck legs in plum sauce with egg-fried rice
INGREDIENTS
DUCK

6 duck legs
1 onion, peeled and chopped
olive oil, to fry (optional)
1 garlic clove, peeled and crushed
1 chilli, seeded and chopped
1 tsp ground ginger
1 tsp ground cinnamon
1 bay leaf
2 star anise
1 tsp mustard powder
1 tsp salt
350g plum jam
50ml orange juice
2 tbsp soya sauce

EGG-FRIED RICE

2 tbsp vegetable oil
4 spring onions, finely chopped
380g jasmine rice/any white rice, cooked according to packaging instructions
2 large eggs, beaten
1 tbsp sesame oil
2 tsp soya sauce
INSTRUCTIONS
PREHEAT the oven to 180˚C for the duck.
FRY the duck legs in a dry frying pan placed over medium-high heat until crispy and the fat has been released. Remove from pan and set aside until needed.
FRY the chopped onion until soft and translucent for about 5 minutes in the same pan. Add a glug of olive oil, if needed, and stir in the garlic and chilli. Fry for 2 – 3 minutes and then add the ground ginger and cinnamon, bay leaf, star anise, mustard powder and salt. Stir until well combined. Add the jam, orange juice and 2 tbsp soya sauce. Stir until combined. Increase the heat and bring to a boil. Once boiling, remove from heat and set aside.
PLACE the duck legs in a deep ovenproof dish. Pour the sauce over the legs, ensuring they are coated well. Cover the dish with foil/a lid and roast in the preheated oven until the duck is cooked through, about 30 minutes. Remove the foil/lid and continue to roast until golden brown, about 15 minutes. Remove from oven and set aside until ready to serve.
HEAT vegetable oil in a large frying pan until very hot. Add the finely chopped spring onion and fry over high heat until soft, about 1 minute. Add the cooked rice and toss well.
SPOON a well in the centre of the rice mixture and pour the beaten eggs into the well. Allow the eggs to cook until the bottom starts to set before scrambling them into the rice. Remove from heat and stir in the sesame oil and 2 tsp soya sauce.
SERVE the duck legs with the egg-fried rice alongside.
ALSO SEE:
Feature Image: Food&Home