South Africa Fashion Week has almost made its arrival, and with fashion design rapidly moving from disposable seasonality into slow fashion, local designers across the board are adopting an earth-friendly approach to the runway.
Come October, SA Fashion Week (SAFW) will showcase a host of designer collections for Autumn/Winter '24.
About Fashion Week's A/W 2024 Showcase
This season, SA Fashion Week has announced a new menswear competition in partnership with the event's main sponsor – Mr. Price – with the hopes to find SA's next best menswear designer.
Mr. Price managing director, Kevin Smith says:
"The talent we've seen leading up to the Mr. Price Scouting Menswear show echoes the exciting evolution in men's design right now. We're experiencing a shift in the approach and mood, and we can't wait for everyone to witness what SA's upcoming designers will be sending down the runway,"
Finalists you'll see on the runway:
Director Lucilla Booyzen confirmed that ninety percent of this season's participating designers now work within the slow fashion ethos.
Booyzen says:
"Each of the nine designers in the Mr. Price Scouting Menswear Competition, including the new signatures showing their first collections, as well as more established brands such as Helon Melon, Bam Collective, Munkus, Michael Ludwig and industry stalwarts such as Black Coffee, Rubicon and Ephymol consider their garments as unique collector's items to be treasured over time."
ALSO SEE: SA Fashion Week returns with menswear competition
All designers are making use of higher quality low carbon fabrication as well as techniques to recycle or upcycle, sourced locally, and avoidant of waste or dead stock by working on limited edition ranges or commissioned pieces to fit into the organisations ethos.
You will see the emphasis on gender fluid and body-sensitive design along with other principles of this kinder movement which is increasingly filtering through to the broader South African consumer, as more than fifty local retailers stock SAFW designers.
The power of collaboration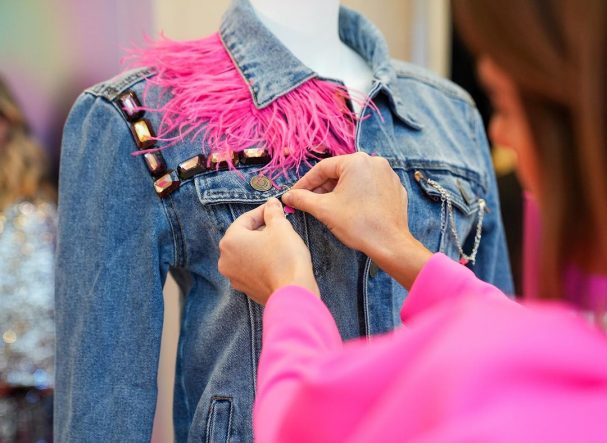 The impact on collaboration is amplified for the seasonal event with sponsors by Mr. Price, the Mall of Africa, Cruz Vodka, Isuzu and Carlton Hair as the official hair styling partner.
SA Fashion week has collaborated with The Department of Sport, Arts and Culture (DSAC) to establish market channels, a brand-building and export development workshop with various local and international experts to precede this year's Tradeshow/Showroom.
A highlight of this workshop will be a hands-on inside track on the compilation of the all- important look books for International Buyers by top photographer, Benjamin Frochcewajg, who will also be shooting the collections handpicked for international marketing.
Over the past two SAFW seasons in collaborating with an international market resulted in the forging of relationships. International fashion movers and shakers including Paula Ciolina, International Relations and Buyers projects manager at Camera Nazionale della Moda Italiana in Milan, and fashion agent, Margaux Bagur, who focuses on the lucrative Middle Eastern and North American markets attended the April 2022 collections.
ALSO SEE: International fashion house Balmain comes to South Africa
The show line-up
The CRUZ collective will open the Autumn/Winter 23 Collections showcase featuring Michael Hittinger of Ludwig Studio, who participated in the A-Propos collection earlier this year. Other collaborations include major Italian stores, Vogue Italia and Afro Fashion Week, menswear supremo, Ephraim Molingoana of Ephymol and Fikile Sokhulu,
According to sponsor, Maisha Mamabolo of Cruz, the show exemplifies why fashion is about more than clothing. "Fashion is about attitude, it creates cultures.
We will see collections from Jacques Bam's eponymous Bam Collective – who is currently at Milan Fashion Week, Cape Town designer, Oyama Gonintebe, a finalist in the 2023 Mr. Price New Talent Search and the winner of the 2022 Mr Price New Talent Search, Thando Ntuli's Munkus Collection.
The event will continue with emerging new signatures by Thula-Tu , Andi Vena, VNTU, and Durban's Elwen Designs.
The ISUZU collections comprises iconic local designers Jacques van der Watt's latest Black Coffee collection, a mostly gender-neutral range drawing inspiration from 18th century frescos and mosaics, Hokusai block prints and Sashiko mending, and Palesa Mokubung of Mantsho whose Regalia Collection references "the distinctive clothing, usually royal-like, worn at formal occasions to indicate status or rank.
The AW24 VIVIERS collection – Re-Trace, Re-Memory, Re-Set, Re-Culture, will serve as a canvas for unravelling the threads that bind our collective origin stories, inviting us to examine the interconnections between art, science, spirituality, and cultural heritage.
Rubicon's effortless and timeless style, form-flattering sophistication, and tailored craftsmanship will again be the hallmarks as designer Hangwani Nengovhela celebrates her signature collection's 21st birthday this season. This will be followed by the menswear Collection, Franc Elis.
Adding to this line-up, Mr Price will launch their "Modern Romance Collection" celebrating local design Helen Gibbs of well-established Cape Town brand, Helen Melon. She uses chemical-free fabric and vibrant water-based colours to set the tone for a three-man show which also introduces the new collections from 2022 Scouting Menswear Competition winner, Refuse Clothing Brand, and Silver Magpie.
Luxury fashion and lifestyle brand, Sun Goddess, returns to the runway with its quintessential South African clothing and accessories rooted in heritage stories that celebrate a regal African aesthetic expressed in detailed handwork, signature fabric, and distinctive colour palettes.
Current collections from MusaWenkosi, titled Valerie will also be showcased. The Collection explores a sporty retro tennis theme drawing inspiration from iconic vintage prints as well as Nicky Madie's gender-fluid Madie collection and Tshepo Mafokwane new collection for Sober Design House.
You won't want to miss SA biggest week of fashion. SA Fashion Week (SAFW) Autumn/Winter 24 Collections to be held at The Mall of Africa from 19 – 21 October followed by the Trade Show and Showroom on 22 and 23 October 2023