Awards Season is afoot! The air is buzzing as Hollywood readies itself for the 92nd Academy Awards. The best films of 2019 will be honoured in Los Angeles, California on 10 February 2020. With so many powerful, shocking and awe-inspiring films to choose from, it can get pretty overwhelming when selecting what to watch. Read further for our top picks of what to watch (and why) and who to keep an eye on this Oscars season. We're here to make things a little easier with these recommendations of Hollywood show-stoppers and power-hitters.
ALSO SEE: Unmissable Moments From The 77th Golden Globe Awards
How the Oscars work 
First things first. Ever wondered how winners are chosen? Well, the awards are hosted by the Academy of Motion Picture Arts and Sciences. The Academy is made up of world-renowned writers, directors, cinematographers, and the like.
Members of the Academy host a vote and select their nominees in each category. There are usually between 5 and 10 nominees per category each year. So a film has to garner 5% of first-place votes to make the cut. Of the nominees, a winner is chosen by The Academy. It's a lot of painstaking admin for an event this glamorous.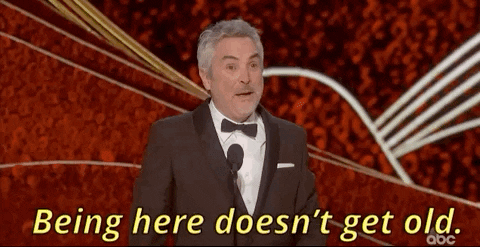 The selection of a winner is made up of a lot of moving parts, so the awards can be difficult to predict. That being said, we've selected a few noteworthy films well worth the watch. So here's hoping we've picked the winners! Fingers crossed.
The Oscar for Best Picture 
2019 was a great year for cinema… The Academy has their work cut out for them, especially considering the variety of films that have already won in the court of popular opinion. Joker, Marriage Story, and 1917 are all obvious front-runners.
Todd Phillips' The Joker scored big at the Golden Globes, going home with two wins and an additional two nominations. Marriage Story (available on Netflix) has caused quite a stir with its emotionally-charged story-line and the fact that it was produced by the streaming giant. Additionally, 1917, a WWI epic, scored a whopping eight nominations at the Critics Choice Awards.
Once Upon a Time in Hollywood, directed by Quentin Tarantino, is also a popular fan favourite. Tarantino's films have a tendency to garner a cult following, and perhaps this trend will continue into awards season. This film is not to be dismissed and may very well grab a few Oscars.
But we're keeping an eye on Bong Joon-ho's Korean family drama, Parasite, for the win. It's a gripping tale of greed, family, and secrecy. The film is riddled with riveting twists and turns. Definitely worth the watch.
The nominees in this category are:
Ford v Ferrari 
The Irishman 
Jojo Rabbit
Joker 
Little Women
Marriage Story 
1917
Once Upon A Time In Hollywood 
Parasite
The Oscar for Best Actress 
Here are the nominees for the best leading lady:
Renée Zellweger Judy
Cynthia Erivo Harriet
Scarlett Johansson Marriage Story
Saoirse Ronan Little Women
Charlize Theron Bombshell
This is a highly competitive category. The Best Actor and Best Actress awards are very prestigious and career-defining. So the category is usually awash with seasoned actors.
All things considered, we won't discount Cynthia Erivo's Oscars-worthy portrayal of real-life American slave hero Harriet Tubman in Harriet.
This should be a close one, maybe even too close to call… But all that means is that the winning actress is just so much more deserving.
ALSO SEE: 6 Of The Best Inspiring Female Leads
The Oscar for Best Actor 
The nominees:
Antonio Banderas Pain and Glory
Leonardo DiCaprio Once Upon a Time in Hollywood
Adam Driver Marriage Story
Joaquin Phoenix Joker
Jonathan Pryce The Two Popes
Although he hasn't been nominated, we were impressed by Adam Sandler's performance in Uncut Gems. The funnyman is nothing short of inspired in this dramatic role. Have a look at the trailer and see for yourself:
Our top pick is Joaquin Phoenix who portrays Arthur Fleck in Joker. Arthur is a tortured misfit trying to navigate the underbelly of Gotham city. This performance is poignant and disconcerting in the best way. Should it win the Oscar? We sure think so.
Best Supporting Actress
Kathy Bates Richard Jewell
Laura Dern Marriage Story
Scarlett Johansson Jojo Rabbit
Florence Pugh Little Women
Margot Robbie Bombshell
Scarlett Johansson is in for a wild awards season as we predict her nomination in two categories. Her roles in Jojo Rabbit and Marriage Story are both mesmerising in their unique way.
Best Supporting Actor 
Al Pacino in The Irishman
Brad Pitt in Once Upon a Time in Hollywood
Tom Hanks in A Beautiful Day in the Neighborhood
Anthony Hopkins in The Two Popes
Joe Pesci in The Irishman
The Irishman stands to gain two Oscar nominations in this category, for Al Pacino and Joe Pesci respectively. So Martin Scorsese, the film's director, should end the evening beaming.
However, there's talk of Brad Pitt's first acting Oscar win… Winning an Oscar is famously as much about the acting as it is about the networking. Brad's been making short work of interviews and press junkets on the awards circuit so he's definitely in with a chance.
Oscar nominations take place on 13 January and you can watch them (live) here. In the meantime, be sure to check out some of our favourites, namely: The Joker, Parasite, Once Upon a Time in Hollywood, Marriage Story, and The Farewell.