If faded colour, yellowing greys or unruly curls are your gripe this season, here's our handy guide to keeping your locks lush throughout the months ahead.
I remember as a kid, after hours and hours in the pool, my white-blonde hair would go green and my mother would coat me in ketchup to try counteract the green tones. Not the worst solution (it actually works), but we have some other options now to keep our hair radiant and healthy right through the harsh South African summer. Products to breathe new life into dyed hair, embracing your natural hair even in humidity and how a shampoo can put the ice back into your blonde locks.
IT'S A SCORCHER
Spending excessive amounts of time in the sun is not only damaging to your skin, but your hair takes a beating too. The sun dehydrates your hair, and the smart solution is to wear a hat – this may seem obvious, but I'm talking even for that quick trip to hang the washing up or a walk around an open-air market. These seemingly small doses of sun all add up and make a big impact on things such as ageing, sun damage and dry hair. When you know it's going to be a beach or pool day, take into consideration that a combination of sun, chlorine and salt make a potent combo and can result in lacklustre hair. A heat-protection spray such as Lee Stafford Coco Loco Heat Protection Mist (R99.99, Clicks) will protect your hair up to 220oC, or you can coat your hair with a conditioner to lock-in the moisture. Try Shea Moisture Jamaican Black Caster Oil Strengthen & Grow Leave-in Conditioner (R270, superbalist.com) because it protects the hair and the peppermint oil is wonderfully soothing on the scalp.
MOISTURE SURGE
To keep moisture levels up at all times, introduce a moisturising shampoo and conditioner to your haircare routine. Pureology Hydrate is gentle enough to keep your precious colour vibrant, but strong enough to hydrate and cleanse. Pureology Hydrate Shampoo and Pureology Hydrate Conditioner bundle R585,00, salon500.co.za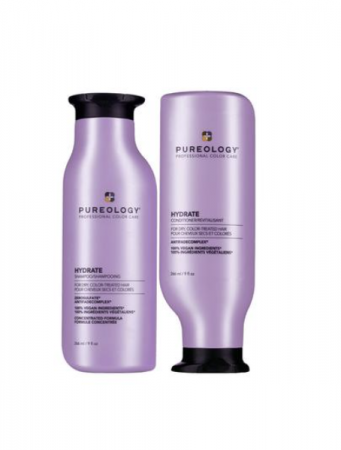 TOP HAIR CARE TIP
For an easy DIY hair mask that helps restore moisture, combine a smashed avocado with extra virgin olive oil to make a paste. Massage into hair and leave on for 30 minutes, then wash as normal. OGX Coconut Miracle Oil Hair Mask (R229.95, Foschini) helps tame even very
tight curls.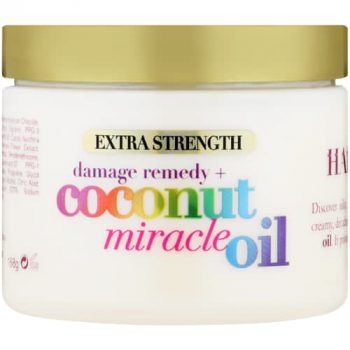 CURLY-WURLY
Curly hair has made a comeback – and there has never been a better time to wear your hair natural and embrace the kinks you were born with. There are a host of products available to support you on your more natural hair journey. A favourite range is the Kérastase Curl Manifesto range – it's enriched with manuka honey and ceramides, which keep the cuticle closed, preventing moisture loss and strengthening hair. The range includes a mask and a curl refreshing spray, which is the perfect pick-me-up for tired curls. Kérastase Curl Manifesto Masque R637 & Kérastase Curl Manifesto Refresh Lotion R594, retailbox.co.za.