Skincare isn't just for your face. It's time breathe life into your summer body and prep for sunny days. Your body will also benefit from a dedicated regime. Body care has come a long way, with active ingredients now a common element in creams and lotions. But don't worry, we're not about to set you off on a seven-step ritual!
'Taking care of your skin from the neck down is just as important as the face, but it doesn't have to be as complicated,' says Paula Begoun, founder of Paula's Choice.
Cleanse
Unless you've worked up a sweat, skin doesn't need vigorous cleaning. Using too much cleanser, particularly one that strips the skin, can cause more harm than good. 'A properly formulated wash that contains drying ingredients or abrasive scrub particles, or is loaded with irritating fragrance, will damage skin,' says Paula. For your everyday washing, choose caring formulas that will aid moisture levels, especially if you've put your summer body in the sun all day. Pure Shower Wash is a paraben and fragrance-free wash that cleanses, hydrates and reduces bumps and blemishes.
Exfoliate
'Body brushing makes your skin appear brighter and younger, and promotes and even-looking tone,' says skincare expert Michaella Bolder. It's a great tip for achieving a gorgeous summer body, but like with all these tips, keep it going during the winter days too. 'It encourages blood flow, stimulates lymphatic drainage and sloughs away dead cells.' You don't have to do it every day. 'Brushing three or four times a week is enough,' says Michaella.
Along with that, an AHA or BHA body exfoliant can make a difference to your skin.' Use them three or four times a week and look out for ingredients such as salicylic, glycolic and lactic acid – they can reduce signs of sun damage and discolouration,' advises Paula. For all your exfoliating needs, try an all over body scrub and body mitt to help target rough areas.
Tone
Just as a facial massage makes your complexion glow, kneading the skin on your body can give it a lifting effect. 'It helps feed it with frsh oxygen and nutrients,' Michaella says. 'An easy way to do it is to spend a little more time applying your moisturiser, and to do a daily workout for your muscles via your fingertips.'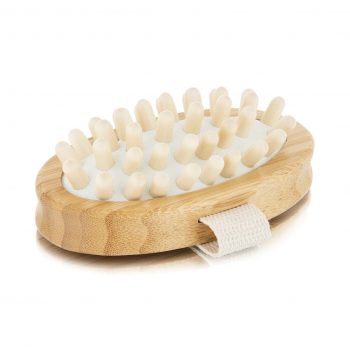 Or take things a step further with a body massage tool. 'It's effective for water retention and cellulite,' says founder of the Hayo'u Method, Katie Brindle. 'It can help clear congestion and aid the skin to beat conditions such as keratosis pilaris.' Try using the WBeauty Body Massage Tool and run it over your body with a little body oil. Another option is an all-in-one massage bar like the Lush Pearl Massage Bar that will easily invigorate and moisturise your skin for a supple summer body.
Moisture
You have probably spent most of your moisturiser on your face, but as we age, our skin's structure weakens, from our eyes to our elbows. To stop the skin from cracking, a cleverly formulated cream can repair and build layers within our skin.
Look for ceramides, which help to  create a barrier that locks in moisture. Also look for antioxidants to protect the skin from external stress. Humectants such as glycerin and hyaluronic acid are also excellent at retaining H2O, keeping complexions and summer bodies alike looking healthy, glowing and plump.
ALSO SEE SOUTH AFRICAN BEAUTY INFLUENCERS TO FOLLOW