John Krasinski – Photo by Mike Coppola/Getty Images
Lockdown has got everyone – basically the whole world – feeling a little discouraged. But heartthrob John Krasinski has made it his mission to change that. A few weeks ago John launched Some Good News, a web show he hosts on YouTube. Episode one was uploaded on 29 March and has garnered almost 16 million views since. Here's why you should be tuning in to the show…
ALSO SEE: Watch These Free Music Concerts From Home During Lockdown
It all started with just one tweet. Presumably sick of the bleak state of Covid-19 news coverage, John asked social media to share some good news with him. This tweet sparked the idea of the web show, which he now hosts from his home.
Alright everybody, how about #SomeGoodNews ! Send me the stories that have made you feel good this week or the things that just made you smile!

— John Krasinski (@johnkrasinski) March 25, 2020
Prepare to see memes, fan art, tear-jerking stories of recovery, and small acts of kindness on Some Good News. Get your weekly fix of positivity from John and his love for Zoom chats and Twitter.
The power of positivity
The show's premise is simple: it's a round-up of all the wholesome, feel-good content you should be seeing right now. Enthusiastic social media users send John links to happiness-inducing content and he presents these clips, interviews, and charming stories from his study at home.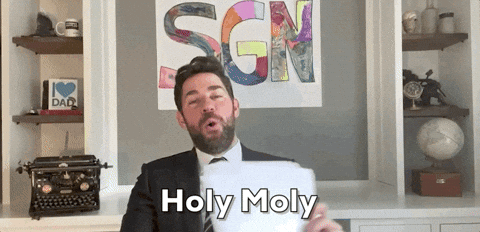 All in all, he describes it as a "news show dedicated entirely to good news". John starts episode one acknowledging that "without question, we are all going through a trying time. But, through all the anxiety, through all the confusion, all the isolation, and all the Tiger King, somehow the human spirit still found a way to break through and blow us all away."
Some Good News is the answer to that sinking feeling we're all beginning to feel. It's part-talk show, part-celebration, and part-montage of all the happy things that are happening in the world despite the pandemic.
ALSO SEE: Remarkable Displays Of Human Spirit In A Worldwide Lockdown
An ode to the human spirit
Some Good News features guests like funnyman Steve Carrell, Emily Blunt, Lin-Manuel Miranda and the cast of the Broadway musical Hamilton.
Another notable guest is Aubrey, a nine-year-old Hamilton fan, who was unable to see the musical live because of Covid-19. On the show, John gifted her a some post-pandemic tickets to the musical – which already had her over the moon. But then she was also surprised by the Hamilton cast performing a number from the acclaimed musical over Zoom. Aubrey's reaction will take your breath away and the performance will give you goosebumps. Absolute chills.
You can watch this episode here. So far there are three episodes available and you can watch them on the SomeGoodNews YouTube channel.
If you're needing a bit of a mood boost, get your happiness fix from Some Good News. The show also makes for great family viewing so be sure to spread the love far and wide. And if you're more of a casual browser, you can have a look at the show's Instagram account, which regularly posts adorable content like this:
Now more than ever, it's important to keep our spirits high. If you have some good news you'd like to share with John, you can tag him on Twitter or Instagram. No matter how small your win, just know that there's a global community ready to celebrate with you.
ALSO SEE: Five Good Things That Will Follow From Covid-19
By Features Writer Ashton Kirsten