No Easter is complete without a simnel. Our pistachio simnel cake is made with homemade marzipan.
INGREDIENTS
For the pistachio marzipan
300 g shelled pistachios
100 g ground almonds
225 g icing sugar, sifted
1–2 medium egg whites
For the cake
300 g mixed dried fruit
Zest of 1 lemon
Zest and juice of 1 orange
250 g unsalted butter, softened
200 g light brown soft sugar
4 eggs
180 g self-raising fl our
100 g ground almonds
2 tsp mixed spice
2 tbsp apricot jam
You will need
18 cm cake tin, lined with
baking parchment
METHOD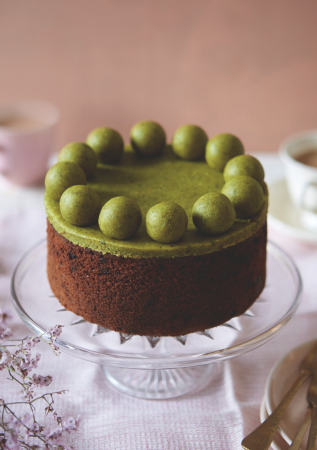 1. Heat the oven to 160°C. For the marzipan, blitz the pistachios in a food processor until fine. Add the ground almonds, icing sugar and egg whites, and pulse to form a dough. You may not need all the egg whites, so add gradually. Divide the marzipan into 3 balls and roll 2 of them into 20 cm discs (use the base of the cake tin as a guide to cut round). Set them aside.
2. For the cake, add the dried fruit to a pan, along with the citrus zests and orange juice, and heat. Allow the fruit to soak up the juice and set aside to cool.
3. Beat the butter and sugar together until pale and fluffy. Add in the eggs, one at a time, until fully incorporated. Sift in the flour, almonds and mixed spice, stir well. Fold in the soaked fruit.
4. Add half the mixture to the cake tin and smooth with the back of a spoon. Add one of the marzipan discs, then top with the remaining mixture. Smooth the top and bake in the oven for 1 hr 45 min to 2 hr until golden brown. Test it by lightly pressing on top of the sponge, if it springs back, it's ready. Leave to cool.
5. Melt the apricot jam in a pan and brush over the fruit cake. Top with the second disc of pistachio marzipan and smooth with your hand. Divide the remaining marzipan into 12 and roll into balls to decorate on top of the cake.
TIP: A traditional simnel has 11 balls to represent the apostles, minus Judas. But 12 is easier to cut.
Serves 12 • Ready in 2 hrs 30 min, plus cooling
ALSO SEE COCONUT LIME & STAR ANISE SYRUP CAKE RECIPE