Suitable for all hair types, Novex Haircare products are 100% cruelty free and has a vast selection of sulphate and paraben free brands. Novex is a deep conditioning system developed to treat the hair and restore shine and smoothness.
Find your perfect Novex haircare product for your hair type. 
Novex Brazilian Keratin Line:
Indicated For Dry Or Chemically Damaged Hair
Introducing Novex Brazilian Keratin range, Brazil's no1 Keratin Product. Since healthy hair is composed of 90% keratin, hair that is damaged by chemical treatments, pollution or regular use of blow dry and flat iron will result in major loss of keratin, leaving you with brittle and lifeless hair. The Novex Brazilian Keratin line is ideal to reconstruct dry or chemically damaged hair. Since it's hydrolysed, Novex's Brazilian Keratin ensures rapid absorption of product, which guarantees healthy, resistant hair with unmistakable beauty. Cruelty Free. Formaldehyde Free.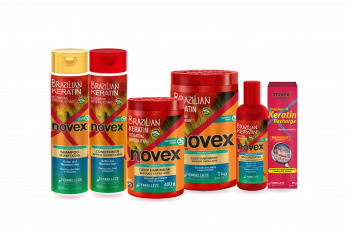 Novex My Little Curls Line:
The Novex My Little Curls line was exclusively developed for children's' hair needs in mind. Novex My Little Curls addresses that special cleansing, nourishing, detangling needs when it comes to taking good care of the most delicate locks. In addition to a shimmering glow and a lot of softness, the My Little Curls range will leave the curls super-hydrated, deeply nourished and clean. Suitable for all types concerned with dry, tangled, frizzy and damaged hair. Especially those with hair types 3 and 4.
Cruelty Free & Dermatologically Tested.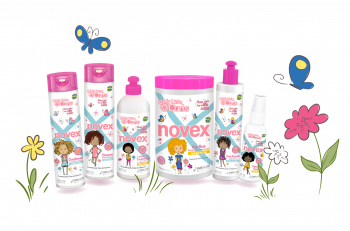 Novex Coconut Oil line:
Novex Coconut Oil, ideal for revitalising dry hair. Enriched with fresh pure Coconut pulp and Vitamin E, the Novex Coconut Oil line maintains the natural hydration of the hair strands, Combats Frizz, and prolongs the smooth effect of the brushing. Coconut oil is a natural substance extremely nourishing and moisturising. It has a high concentration of elements that strengthens the hair structure leaving it protected and resistant to environmental factors. Suited for all hair types concerned with dull, damaged, undisciplined, frizzy and dry hair. Cruelty Free. Natural Nutrients. pH3.5. Salt Free.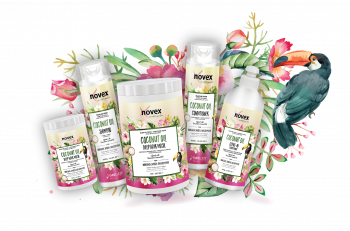 Novex Collagen Infusion line:
The Novex Collagen Infusion line has 100% plant-based collagen, an active known for its anti-aging properties. Extracted from Acacia Senegal, a typical African tree, collagen is a protein produced from amino acids that promote healthy hair growth and prevent thinning of the hair fiber due to aging. The Novex Collagen Infusion line gently cleans hair, strengthening hair follicles, and promoting hair growth and thickening. Increases hair fibre diameter by 23% and Improves shine by 80%.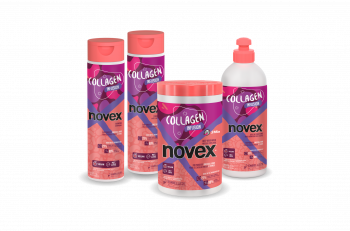 ALSO SEE 9 BEST PRODUCTS FOR CURLY HAIR