Everyday stresses have a larger impact on the body than what meets the eye. While there are some positive effects of stress like motivation and growth – prolonged exposure to high levels of stress can wreak havoc on our overall health and well-being. One of the key players in the stress response is cortisol, often referred to as the 'stress hormone.'
If you're feeling the effects of burnout, learning how to lower your cortisol levels naturally can have a profound impact on our physical, mental, and emotional health. Here's how:
What is cortisol?
Cortisol is a hormone produced by the adrenal glands, and it plays a crucial role in our body's fight-or-flight response. In short bursts, cortisol is essential for survival, helping us respond to immediate threats. However, when stress becomes chronic, and cortisol levels remain consistently high, it can lead to a range of health issues, including:
ALSO SEE: Exposure to EDCs may be the cause of disruptive sleep in menopausal women
Weakened immune system
Elevated cortisol levels can suppress the immune system, making us more susceptible to infections and illnesses.
Weight gain
High cortisol levels have been linked to increased abdominal fat, which is associated with a higher risk of heart disease and diabetes.
Sleep disruption
Cortisol imbalances can interfere with the sleep cycle, leading to insomnia and poor sleep quality.
Mood disorders
Chronic stress and elevated cortisol levels are often linked to anxiety, depression, and other mood disorders.
Cognitive impairment
Prolonged stress can negatively impact memory, focus, and cognitive function.
Heart health
High cortisol levels may contribute to hypertension and cardiovascular issues.
How to lover cortisol levels
Fortunately, there are several effective strategies to lower cortisol levels and restore balance to our bodies and minds. If you are experiencing a decreased overall health complex that is so tricky to explain and treat, your cortisol might be too high.
Regular exercise:
Engaging in regular physical activity, such as walking, a light jog, yoga and pilates, or swimming, can help reduce cortisol levels. Exercise promotes the release of endorphins, which are natural stress-relievers.
Meditation:
Practicing mindfulness and meditation can calm the mind and reduce stress. These techniques promote relaxation, leading to lower cortisol levels over time.
Adequate sleep:
Prioritise sleep by establishing a consistent sleep schedule and creating a relaxing bedtime routine. Quality sleep is essential for cortisol regulation.
Healthy nutrition:
A balanced diet rich in whole foods, fruits, vegetables, and lean proteins can support hormonal balance, including cortisol regulation.
Stress management:
Identify stressors in your life and implement healthy coping mechanisms, such as deep breathing, journaling, or spending time in nature.
Social support:
Cultivate a strong support network of friends and family. Social connections can buffer the effects of stress and reduce cortisol levels.
Limit stimulants:
Reduce or eliminate excessive caffeine and alcohol consumption, as these substances can contribute to cortisol spikes.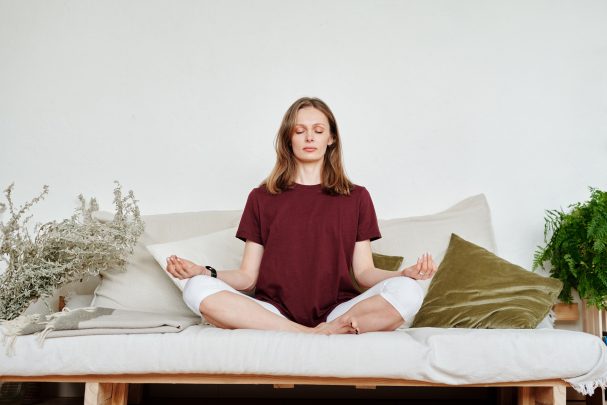 5 physical ways to lower your cortisol levels
The tapping method – This tells your stress response to switch off. You can tap your hands, head, or chest.
Humming to your favourite song.
Ear pulling – Tugging and holding the tug on the middle, bottom and tom of your ears.
Dunking your face into ice water. This will promote a rest and digest mode.
@giuliahalkier_PART 2 – 5 proven ways to lower your cortisol levels. As someone who struggled with high cortisol levels and had a whole bunch of health issues because of it, I wish someone had taught me these things sooner because I wasted alot of my life depressed and having alot of symptoms like insomnia and hating my body. Number 1 – EFT tapping. Number 2 – Humming. Number 3 – Orienting. Number 4 – Gently place your fingers in your ears and make circle movements. Number 5 – eye gazing.♬ original sound – BODY CONFIDENCE EXPERT ❤️
ALSO SEE:
Featured Image: Pexel