Coughing is a symptom that may be experienced throughout winter. It can be a symptom of a cold, the flu, bronchitis and even asthma, and relieving the chest of excess mucus is one way to ease the cough and bring relief.
"Often a cough can cause the most discomfort when sick, and continue long after the illness," comments Carla Yssel, senior brand manager for Tibb Health Sciences' Chest Eeze. "It is important to find ways to help control the cough, while working on assisting in ridding the body of the under-lying issues. Putting in place simple steps can help ease your coughing."
Many are too scared at the moment to visit their doctor but being at home while sick and coughing doesn't mean that you can't look after yourself. Yssel suggests the following easy, natural ways to help deal with your cough without having to leave the comfort of your home:
Keep the air moist
Use a humidifier continuously and make sure to steam yourself regularly throughout the day. A humidifier, providing either a cool or warm mist helps to ease chest congestion along with coughing. Steaming regularly during the day helps to reduce the severity of the coughing. You can add essential oils or a vapour rub such as Tibb Blackseed vapour ointment which contains a combination of Eucalyptus, camphor and blackseed oil for added relief into the water.  Alternatively, it can also be used to rub directly on the chest to soothe your airways.
Medicate
Use a complimentary medicine such as Chest Eeze from Tibb, which contains plant-based ingredients to help you breathe with ease by opening up your airways and to thin and expel stubborn phlegm. Available in syrup form and suitable for aged 3 years old and up.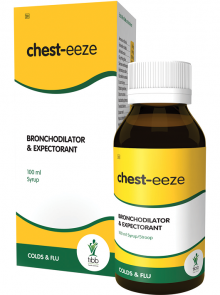 Hydrate 
Staying hydratedEvery day is very important, but it is a necessity when you are sick. Water is a part of every cell in our bodies, and when sickness is experienced dehydration can occur due to fever, coughing, diarrhoea and vomiting. If you are not getting enough water your body will have a hard time regulating its temperature. Keeping hydrated while ill and coughing can help decrease nasal irritation.
Home remedy
Honey and Ginger is known as a home remedy for sore throats, but it can also be used as a cough suppressant. Adding two teaspoons of honey, fresh ginger and lemon to tea or hot water, can help ease decongestion and lessen your cough for a while.
Coughing is your body's way of getting rid of an irritant. This can be phlegm, smoke or an allergen such as dust. The symptoms of your cough can determine what type of cough you have – how long have you had your cough? Is it a dry, wet or hacking cough? When during the day does it occur? Answers to questions such as these can help discover what is causing your cough, and perhaps help to find ways to get it under control.
"Continuous coughing is never a pleasant experience and should not be left untreated as it can lead to more serious complications. Implementing these simple 'remedies' at home can help ease your coughing and your chest, while speeding up your recovery," explains Yssel.
ALSO SEE COVID-19 VS ALLERGY SYMPTOMS: WHAT'S THE DIFFERENCE 
[Supplied article] & [Image via Pexels]