It wouldn't be Easter without a delicious tender lamb. This aromatic Herb-crusted rack of lamb will keep for sandwiches the next day – just pull off the bone and slice the medallions.
INGREDIENTS
2 racks of lamb (about 6 chops each),at room temperature
1 tbsp olive oil, or as needed
300 g baby radish, gently scrubbedFor the herb crust
100 g panko breadcrumbs
1 large bunch of parsley, stems removed
100 g Parmesan cheese, roughly broken
1 tbsp herbes de Provence
2 large garlic cloves, pressed
100 g pine nuts
1 tbsp olive oil, or as needed
1 tbsp Dijon mustard, or as needed
METHOD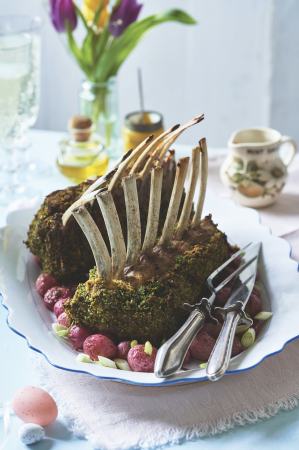 1. Heat the oven to 220°C, with the oven shelf near the bottom. If your lamb is very fatty, trim some of the excess so that there is only fat closeto the skin, rather than a rind. Season
the racks well with sea salt and coarse black pepper on all sides, including the ends.
2. In a heavy-bottomed pan set over a medium-high heat, add the oil. When very hot, sear the racks on all sides, using tongs, until browned. Toss the radish into the oven tray with the
lamb, fat-side down, transfer everything to the oven, and roast for 10 min. Set the lamb aside, leaving the radish to continue roasting.
3. Meanwhile, combine the breadcrumbs, parsley, Parmesan, herbs, garlic, pine nuts and oil. Brush mustard liberally onto the warm lamb, then use your hands to coat and pack the racks in the herb mixture.
4. Put the lamb back into the oven tray with the radish. Cook in the oven for 8 min for pink, 10 min for medium, and 15 min for well done. Remove the lamb from the oven, leaving the radish
inside, and let it rest for 10 min. Serve lamb with the oven-hot radish.
TIP: Ask your butcher to 'French trim' the lamb ends, then cover each with a foil jacket when cooking.
ALSO SEE COCONUT BLONDIE WITH SEA SALT HONEYCOMB RECIPE