Easter is a time for togetherness and family, and each year presents a new opportunity to make lasting holiday memories. Of course it is the Easter activities for kids that make most of this holiday period so fun. Whether you are travelling or staying at home there are tons of things to keep you and the little ones entertained.
The classic egg hunt
Host a scavenger hunt with a difference this Easter weekend – let the kids have control! Sounds a bit crazy but they will love every moment. And it is super easy when using a scavenger hunt template. We suggest separating them into two groups where they make a hunt for each other.
A mini-adventure
If you are some place new for the long weekend get the kids out exploring. Choose a park, beach or forest nearby and let the kids run about looking for specific items. It will keep them busy and engaged in the new environment while you keep a watchful eye from a sunny spot. Make a little list with words or drawings of things like: 3 shells, a yellow flower, 2 brown leaves, a rock taller than you, etc.
A special lunch
If you are looking for Easter activities for kids that gives you more chill time, perhaps stop by Steenberg Estate. They have a special Easter lunch on the cards at their flagship restaurant Tryn. Savour its cuisine while the kids stretch their legs. They can race around the elaborate garden hunting for Easter eggs or delight in naughts and crosses, bean bag tossing and hoop throwing. The lush lawns are where you want to be!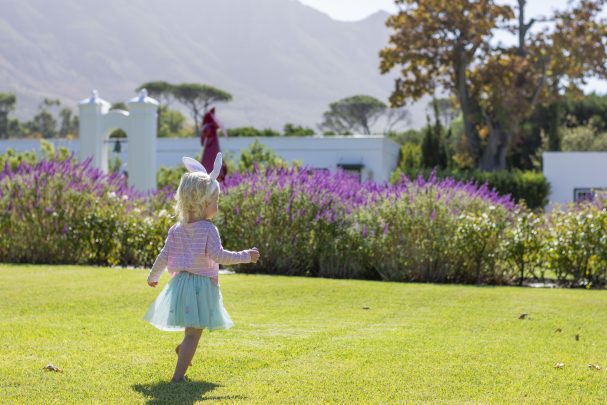 Car bingo
Download and print some Easter bingo cards that kids can play in the car or during pitstops. Easter weekend often brings long drives that can cause a few wobbles. This will help keep them cheerful and excited.
Get crafty
It wouldn't be a list of Easter activities for kids without some crafting involved! Let little hands get creative by turning white Easter eggs into adorable bunnies, chicks, sheep and birds. Download and print patterned paper so kids can cut out ears, beaks, feathers and whiskers to create winter animals.
ALSO SEE: