What's for lunch? Try our yummy Couscous-stuffed trout recipe. Plump, jewelled couscous is sandwiched between delicate, flaky trout.
ALSO SEE BAKED SALMON WITH DILL RICOTTA PESTO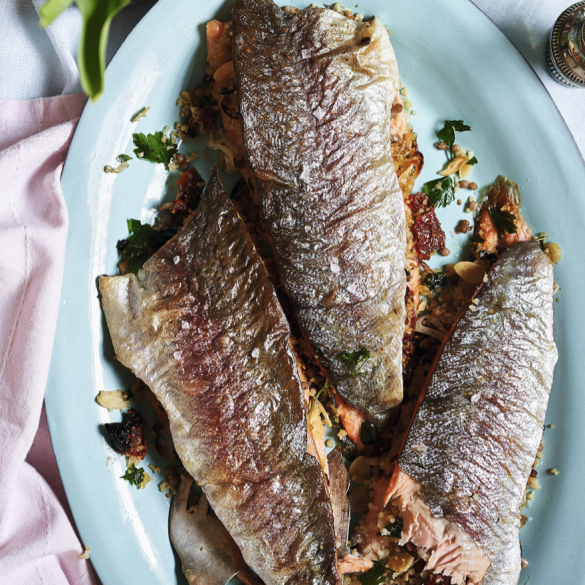 Ingredients
6 trout fillets

2 tbsp olive oil

2 shallots, fi nely sliced

2 garlic cloves, fi nely chopped

50 g giant couscous

75 g fi ne couscous

100 ml hot vegetable stock

8–10 sun-dried tomatoes, chopped

100 g black Kalamata olives, chopped

Zest and juice of 1 lemon

50 g sliced almonds, toasted

Handful of parsley, fi nely chopped

You will need

A baking tray, lined with parchment
Instructions
1. Heat the oven to 200°C. Pat the skin of the trout dry and rub with 1 tbsp of the oil. Season with salt.
2 Heat the remaining oil in a frying pan and cook the shallots over a medium heat for 5 min until softened. Add the garlic and cook for another 2 min, then remove from the heat.
3. Meanwhile, cook the giant couscous according to the pack instructions, and cool. In a large bowl, add the fine couscous and pour over the hot stock.Cover and leave to steam for around 5 min. Once the couscous has absorbed all the stock, stir in the giant couscous, cooked shallots and garlic, followed by the sun-dried tomatoes, olives, lemon zest and juice, toasted almonds and parsley. Season.
4. Lay 3 trout fillets on the lined baking tray, skin-side down, and top each one with the couscous mix. Place another trout fillet on top, skin-side up. Season and drizzle with oil. Bake in the oven for 15–20 min, depending on the size of the fish.
Serves 3–6 • Ready in 45 min