Winter isn't winter without bubble and squeak, which is also a great way to use up leftover roasties and greens. Chorizo and fried eggs make this special version.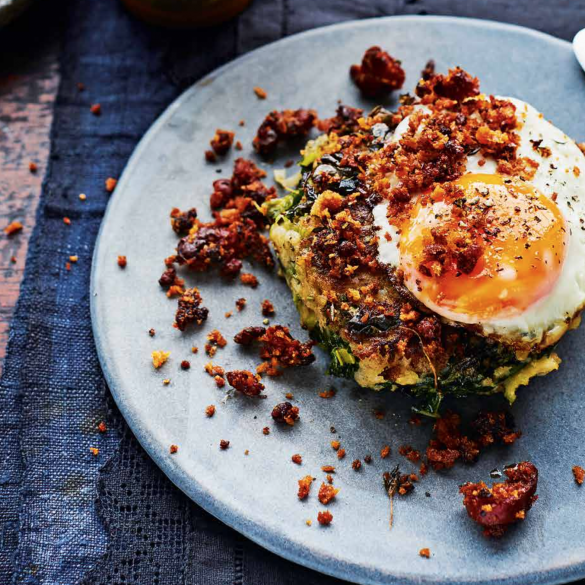 Ingredients
500 g potatoes, peeled and cubed
200 g chorizo
Leaves of 1⁄2 bunch thyme
50 g fresh breadcrumbs
Knob of butter
3 garlic cloves, peeled and finely chopped
1 leek, trimmed and shredded
150 g kale, tough stems removed and leaves shredded
200 g Brussels sprouts, trimmed and shredded
1 tbsp English mustard
1 egg, lightly beaten
2 tbsp plain flour
Leaves of 1⁄2 bunch rosemary Zest and juice of 1 clementine
2 tbsp olive oil, plus a little extra
4–6 eggs
Instructions
1 Put the potatoes in a large pan of salted water. Bring to the boil then simmer for 15 mins until just cooked. Drain then leave in the colander over the pan to steam-dry in the heat. Tip them back into the pan and roughly mash.
2 Meanwhile, remove the chorizo from its casing and place into a large frying pan. Fry over a medium heat, breaking it down with a spoon to become crumbs. After 10–15 min, when turning golden, add the thyme and breadcrumbs, and toast until crispy. Set aside in a bowl.
3 Put the butter and a drizzle of olive oil into the same pan. Add the garlic, leek, kale and sprouts, and cook over a high heat for 10 min until soft.
4 Put the mashed potatoes and greens into a large bowl. Add the mustard, beaten egg, flour, rosemary and clementine zest and juice, season and mix together well. Shape the mixture into 4 or 6 large cakes.
5 Heat 2 tbsp olive oil in a large frying pan. Fry the bubble and squeak cakes in batches for about 6 min on each side until crisp and golden. Keep warm.
6 Fry the eggs and serve the bubble and squeak cakes with a fried egg on top and chorizo crumb spooned over.