Finding a comfortable bra that suits all your needs is not always an easy find, it can definitely require some trial and error. There are so many styles, fits, fabric quality and different brands to choose from. 
Since the pandemic, there's been a cultural shift towards an "exploding interest in comfort, more flexible wires, softer fabrics and thinner fabrics."says Classi-Zummo. 
We are here for well-designed, pretty and most importantly supportive and comfortable bras. Even though there's no universal standard of the 'best bra'- everyone has a different idea of how a good bra should fit, flatter and support. 
 There are however  some common qualities that a bra fit should share, according to The Bra Guru 
the band should be snug but not too tight 

The cup should completely contain your breast tissue

If the cup puckers in the front then it is too big

Straps should fit firmly without digging in. 

The front center of your bra should lie flat on your body

The bottom band should be horizontal to the floor
Let's take a look at the different bra types  and see what's most suited for you. 
Playtex and Choose me can be used as a guide to help determine which bra suits your shape.
Bralette bra 
A bralette is a lightweight bra usually without underwire. It became popular in recent years as it offers the freedom and support of a sports bra without all the bulkiness. Shapes can range from a high-coverage crop top to a barely-there triangle shape. Just about anyone can wear a bralette, given how cute and comfy they are.
If you have a smaller bust, a bralette should provide enough support for all-day wear, women with fuller bust can opt for bralettes with thicker straps and more coverage for a more supportive band under the bust.  It's also a great option to wear lounging at home. 
Jingle Check Bralette | Cotton on R199
Balconette bra 
The balconette, also referred  to as a balcony bra, was made famous by Marilyn Monroe in the 1950's. A balconette bra has wide shoulder straps and a horizontal appearance to the neckline, perfect for dresses.
The half -moon shaped  cups offer a little less coverage than a demi but with an added emphasis on your natural cleavage.
Balconettes are great for Pear shaped women with smaller busts. This will enhance your bust area, creating the look of having smaller hips, a more defined waist and balance your larger middle area… and of course draw attention upwards!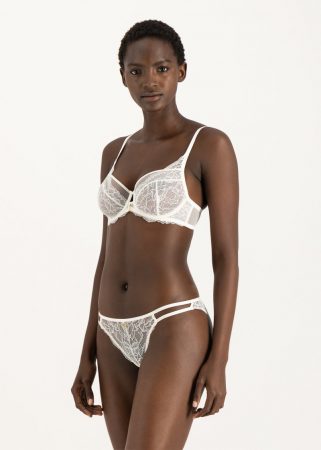 Bridal Lace & Mesh Non Padded Underwire Balconette Bra | Woolworths R379 
T-shirt bra 
T-shirt bras are great for everyday use and are usually lightly padded and moulded for a smooth fit with no cup seams, the molded cups will create the illusion of a more even shape. This is great for a bust that is slightly uneven ( and not to worry, this is very normal). T-shirt bras are similar to contour bras, the difference is that they can be unlined and unpadded and thereby does not define the shape of the breasts in the same way. Contour bras are fully padded cups that are almost always moulded and it usually has an underwire. When you wear a contour bra, it shapes your bust rather than the other way around.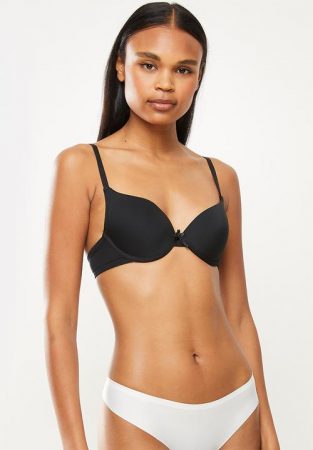 3 Pack T- shirt bra – oyster/black/white | Superbalist R299
Plunge bra 
A plunge bra has a deep "V" shape to the neckline, revealing more cleavage and adding a lift, perfect for smaller busts. Thanks to the closely fitted wires gently pushing the breasts together. It's suited for all body types, as the plunge extends higher on the strap, it keeps in full shape and smoothes out the breast shape for slope types. A deep plunge bra is perfect to wear under low cut clothes and creates a sexy yet natural look.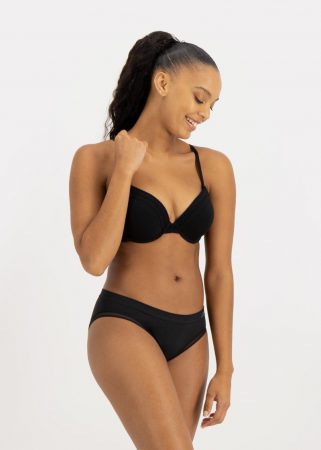 Padded Underwire Plunge Bra | Woolworths R250
Full cup bras
Full cup bras offer the most coverage and provide support, it's ideal for women who wear larger cup sizes and wish to minimise the size of the bust or for those who prefer to reduce cleavage. This bra usually has a strong underwire and stretchy material for maximum support, giving your back a much-needed break. 

Jockey® Forever Fit™ Full Coverage Molded Cup | Jockey R529
Sports bra  
Sports bras have been specially designed to wear when exercising. They offer support to your bust, sturdier than typical bras, they minimize breast movement and alleviate discomfort. These are suitable for any body type. Sports bras can feel a bit constricting, but it's stretchy fabric, wire-free construction, removable padding, wide straps and modern designs make sports bras just as comfortable as their everyday counterparts.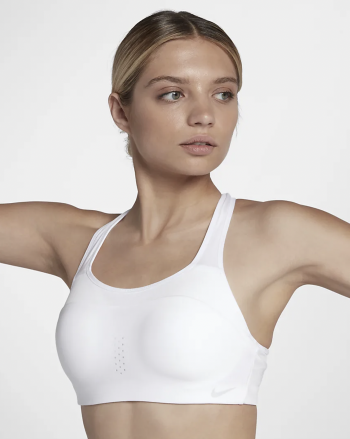 Women's High-Support Sports Bra | Nike R849,50
Push up bra 
A push up bra contains extra padding in the sides and bottoms of the cups to push your breasts in and up, creating cleavage. A push-up bra can work for all shapes and sizes. It might be especially useful to add fullness to small breasts and perkiness to low-hanging breasts. Push-up bras are a go-to, to help you feel confident and sexy.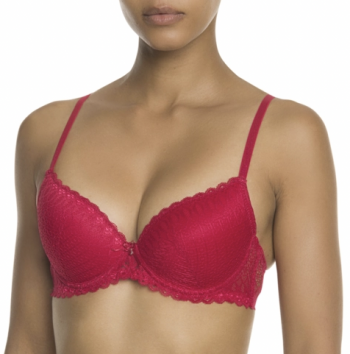 2 pack Push up bra | Foschini R299 
ALSO SEE A GIFT GUIDE FOR FASHION LOVERS