Smothered in addictive Nutella and glossy berry compote, this brunch-time treat will get the weekend off to a great start.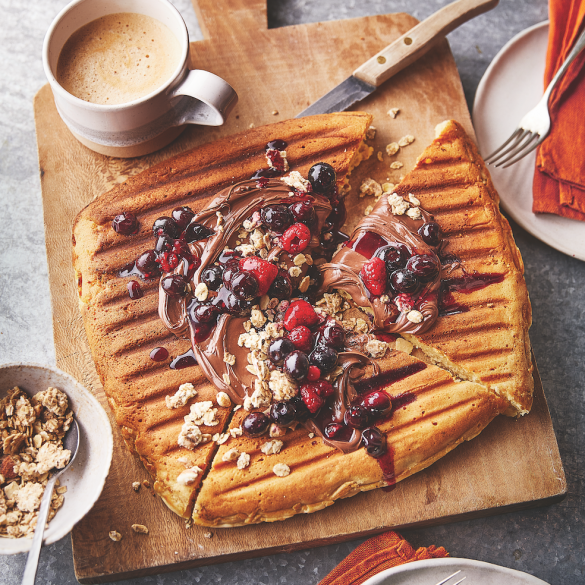 Ingredients
For the pancake batter:

230 ml whole milk

3 large eggs

100 g unsalted butter, melted and cooled, plus extra for the pan

270 g self-raising flour

2 tbsp caster sugar

2–3 tbsp Nutella

Handful nutty granola

For the berry compote:

150 g mixed berries, fresh or frozen

1 tbsp caster sugar
Instructions
1 For the compote, add the berries to a small pan with the sugar and a splash of water. Gently simmer for 4–5 min until the berries start to soften and become glossy.
2 Whisk together the milk and eggs in a bowl or jug, then pour in the melted butter and whisk again.
3 In a separate large bowl, stir together the flour, caster sugar and a pinch of salt. Slowly pour the milk mixture into the flour and whisk until fully incorporated and smooth, so no lumps appear.
4 Heat a griddle pan to a medium heat and add a knob of butter to grease the pan. Pour in the batter and carefully move around until the pan is completely covered. Cook for 8–9 min, checking every now and then, until the waffle is golden brown on one side.
5 Carefully flip the waffle, keeping it all in one piece, and cook on the other side for a further 8–9 min. Take off the heat to cool slightly.
6 Spread the warm waffle with Nutella, spoon over the berry compote and top with some granola.
ALSO SEE:
Feature Image: W&H