Make the dough for these delicious buns the night before and be rewarded with a batch of freshly baked treats in the morning.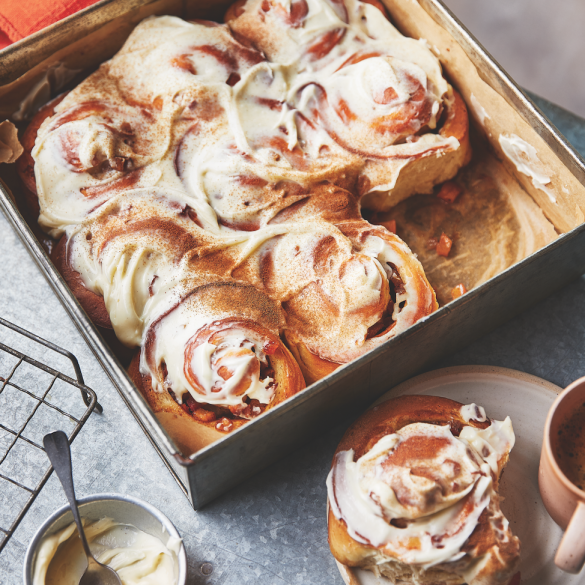 Ingredients
For the buns:

250 ml whole milk

50 g unsalted butter

75 g caster sugar

2 medium eggs

550 g strong bread flour

7 g instant action yeast

Finely grated zest 1 lemon

1 tsp salt

For the filling:

100 g unsalted butter

5 eating apples, skin on, scored and cut into 1 cm chunks

100 g light brown sugar

1 tbsp ground cinnamon, plus extra, for dusting (optional)

2 tsp vanilla bean paste

For the icing:

60 g unsalted butter, softened

165 g cream cheese (ideally Philadelphia), at room temperature 100 g icing sugar, sifted

1 tsp vanilla bean paste

You will need:

20–23 cm square baking tin,lined with baking paper
Instructions
1 For the dough, heat the milk in a small saucepan until steaming. Remove from the heat and add the butter and sugar. Mix until the butter melts and the sugar dissolves. Put the warm milk in the bowl of a stand mixer fitted with the dough hook. Whisk in the eggs, then add the flour, yeast, lemon zest and salt.
2 Mix on a low speed for a few minutes until the dough comes together, then increase to medium and knead for 10–15 min until smooth and springy. Shape into a ball and put in a large oiled bowl. Cover and set aside in a warm place for 2 hrs until doubled in size.
3 For the filling, melt the butter in a wide saucepan over medium-low heat. Add the apples, sugar, cinnamon, vanilla and a pinch of salt. Cook for 15–20 min until the apples soften and any liquid has reduced to a thick sauce. Set the mixture aside to cool.
4 Once risen, roll out the dough on a lightly floured surface to a rectangle about 40 × 25 cm. Spread the cooled apple mixture over the dough and roll up tightly, pinching the seam to seal. Cut into nine equal pieces and arrange in a prepared baking dish. Wrap with cling film and chill overnight.
5 Remove the buns from the fridge 1 hr before baking. Heat the oven to 160 oC Fan/Gas 4. Bake for 30–35 min until golden. Cool for 30–40 min in the tin
6 For the icing, beat together the butter, cream cheese, icing sugar and vanilla until smooth. Spread the warm buns with the icing, and serve, dusted with a little extra cinnamon if preferred.
ALSO SEE:
Get your fix of almond scones with smashed berries
Feature Image: Woman&Home