Having fun doesn't always require alcohol. If you're the resident designated driver, or you just want to keep the festive drinks clean this time around, here are some fabulous mocktail recipes for you to whip up in a jiffy. Alcohol free, but packed with flavour! Let's grab our shakers, shall we?
Roadhouse shake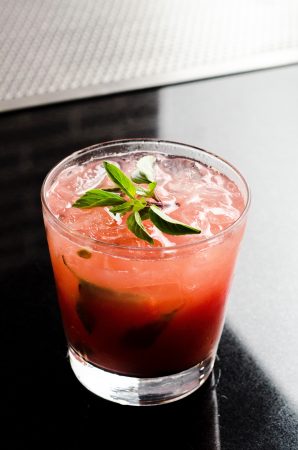 This mature take on a roadhouse shake is a chilled crème-based gin fizz that sings with blackberry and rose water flavours. Rosy, lemony, creamy, and cheeky.
INGREDIENTS
50ml Musgrave Inspirit
2 bar spoons of Blackberry jam
10ml sugar syrup
15ml Fresh lemon Juice
1 rosemary sprig
25ml fresh cream
Tonic
GARNISH
Rosemary sprig and 1 winterberry
METHOD
To make this non-alcoholic cocktail, add all the ingredients, except for the tonic into a shaker. Stir and add lots of ice. Shake vigorously for 15 seconds. Double strain into a chilled glass and top with chilled tonic water.
Non-alcoholic rose and hibiscus tea negroni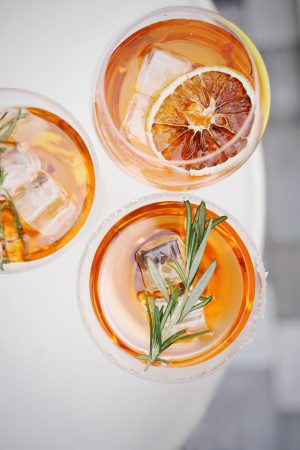 This non-alcoholic drink is a delicious hot aperitif that will fill the air with aromas of mulled spices, hibiscus and deep citrus.
INGREDIENTS
Quill
2 Cloves
1-star anise
Sweet hibiscus tea
50ml of Musgrave Inspirit
GARNISH
Cinnamon Stick and a slice of orange
METHOD
Special prep: Sweet Hibiscus Tea: 400ml hibiscus tea with 100ml sugar syrup.
Add all ingredients to a heatproof balloon glass. Heat the glass with a chef's torch. Suspend on a tumbler glass and serve the first 2 ingredients in to mug and fill with hot coffee and stir. Layer an orange oil-infused whipped cream on top.
Raspberry lemonade cordial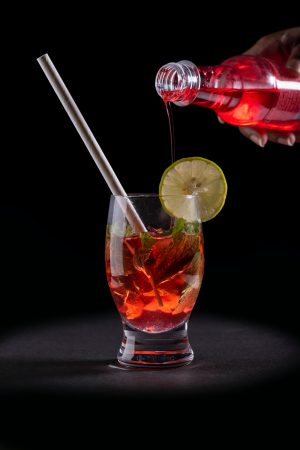 INGREDIENTS
250ml (1 cup) water
200g (1 cup) sugar
250ml (1 cup) lemon juice
zest of 1 lemon
250ml (1 cup) raspberries, puréed
125ml (½ cup) whole raspberries
crushed ice, to serve
sparkling water, to serve
fresh mint sprigs, to serve
METHOD
To make the lemonade, heat the water, sugar, and lemon juice until the sugar has dissolved. Turn up the heat and simmer for 15 minutes.
Leave to cool completely before stirring in the lemon zest, raspberry purée, and raspberries. Serve with crushed ice, sparkling water, and mint.
Abstinence Lemon Spritz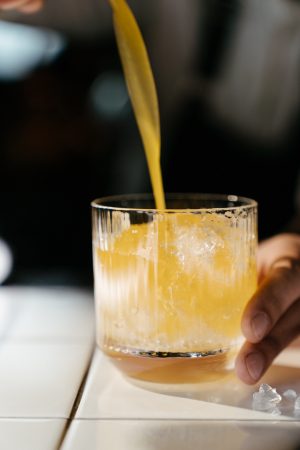 INGREDIENTS:
50ml Abstinence Lemon Aperitif 200ml Soda Water (can be substituted with Tonic)
Ice
Garnish with a lemon Peel
METHOD:
Pour ABSTINENCE Lemon Aperitif over ice in a Gin Goblet or Wine Glass. Top with Soda and garnish with fresh lemon peel.
Fluére Collins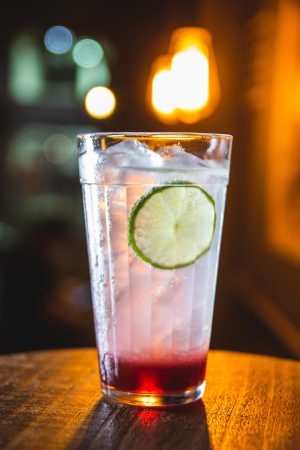 INGREDIENTS:
60ml Fluére Original, Spiced Cane or Raspberry
30ml Lemon juice
20ml Simple syrup
Soda Water
METHOD:
Pour all of the ingredients over ice cubes in a smooth Collins glass until it's 3/4 full. Top it off with crushed ice and garnish with lemon wedge and either maraschino cherries (if you've chosen Fluére Raspberry) or a sprig of mint (if you've chosen Fluére Original or Spiced Cane).
ALSO SEE:
All images including featured image – Pixel