If you're looking for a fun cheat meal, try our super easy vegan chocolate cake! We use vegan butter, olive oil, and vegan chocolate to create a perfectly moist, bouncy cake topped with a decadent chocolate ganache. This is an easy crowd-pleaser to tow with you to your vegan friend's birthday celebration, or for a secret chocolate cake binge…we don't judge.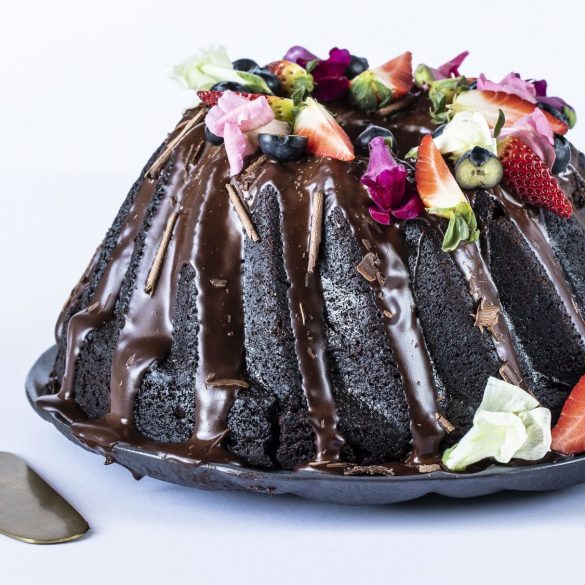 Ingredients
Vegan Chocolate cake

20 grams vegan butter, melted, for the cake tin

3 Tbsp. cocoa powder, for the cake tin

6 cups flour

1 cup cocoa powder

2 tsp. salt

4 tsp. baking soda

4 cups brown sugar

4 cups boiling water

3 Tbsp. instant coffee granules

1 Tbsp. vanilla essence

20 ml white vinegar

330 ml olive oil

Vegan chocolate ganache

100 grams vegan dark chocolate, finely chopped

150 grams tinned coconut cream

Pinch salt

To serve

80 grams chocolate, for curls

150 grams berries of choice

Edible flowers
Instructions
For the vegan chocolate cake
PREHEAT oven to 180°C. Brush a thin layer of melted butter inside a 26cm-diameter bundt tin and dust over the cocoa powder, tapping out any excess. Spray over a layer of non-stick spray.
SIFT the flour, cocoa, salt and baking soda in a bowl and whisk in the sugar.
COMBINE the coffee and boiling water together in a separate bowl and mix until dissolved. Add vanilla, vinegar and oil and mix well to combine.
POUR the wet ingredients into the dry ingredients and whisk to form a smooth batter.
POUR the cake batter into the prepared cake pan and bake for 1 hour 25 minutes or until a toothpick inserted into the centre of the cake comes out clean. Allow to cool completely before turning the cake out of the pan.
Vegan chocolate ganache 
PLACE the chocolate in a heat-proof bowl.
HEAT the coconut cream in a small pot until steaming and pour over the chocolate. Allow to sit for a moment and stir to create a smooth, glossy ganache. Sprinkle in salt and stir to combine.
Chocolate curls 
USE a vegetable peeler or small knife to carefully shave small chocolate curls from the smooth back of the chocolate  slab.
To assemble
POUR the ganache over the cooled cake and serve topped with chocolate curls, berries and flowers.
Pro Tip: Don't have a bundt tin? Make an equally easy vegan chocolate cake using a large baking tray instead! Pour the warm ganache over the cake to create a shiny glaze, or allow the ganache to cool and spread over the cake like icing.
ALSO SEE:
Feature Image: Supplied