These apple and butterscotch French toast sandwiches are the perfect breakfast treat! Or lunch. Or dinner. Whatever. We don't judge. We simply indulge.
TOTAL TIME 45 minutes + 30 minutes, for the sauce to cool | SERVES: 3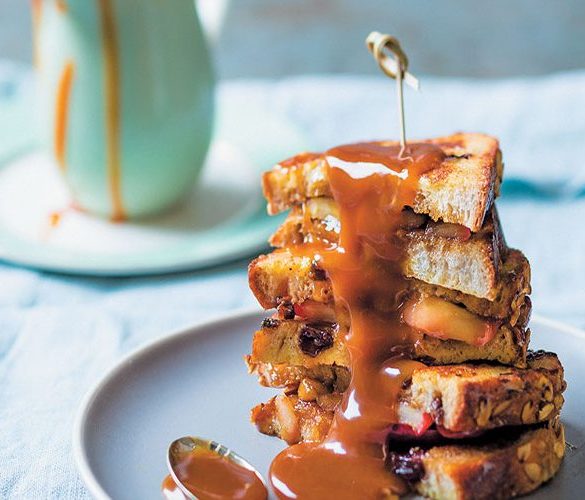 Ingredients
Butterscotch sauce

100ml golden syrup

35g butter

80g treacle sugar

100ml cream

French-toast sandwiches

30g butter

2 Royal Gala apples, core removed and cut into eighths

15ml (1 tbsp) brown sugar

2 large eggs

50ml milk

6 slices muesli/raisin bread

30g butter
Instructions
FOR the butterscotch sauce, place the syrup, butter and sugar in a small saucepan and bring to a boil. Remove from heat and stir in the cream. Return to the heat, reduce the heat to medium and simmer, 2 – 3 minutes. Pour into a sterilised jar and set aside to cool and thicken, about 30 minutes.
FOR the sandwiches, melt the first 30g butter in a frying pan over medium heat, add the apples and sugar and fry until softened and caramelised, 3 minutes. Remove from heat and set aside to cool.
WHISK together the eggs and milk and dip the slices of bread into the egg mixture. Place 3 of the dipped slices of bread on a board and top each slice with caramelised apples and 15ml (1 tbsp) butterscotch sauce. Sandwich together with the remaining slices of dipped bread.
HEAT the second 30g butter in a large frying pan over medium heat, and fry the apple sandwiches until golden brown and cooked through, 2 minutes on each side.
REMOVE from heat and cut each sandwich in half. Stack them, keeping them in place with a skewer, and serve immediately drizzled with the remaining butterscotch sauce or serve it as a side, if you prefer.
Written by the Garden & Home team
ALSO SEE:
9 of the best best winter puddings to dig into