The sweetness of this cake is beautifully offset by the addition of fresh figs and blueberries. A chocolate milk cake recipe you'll adore time and time again.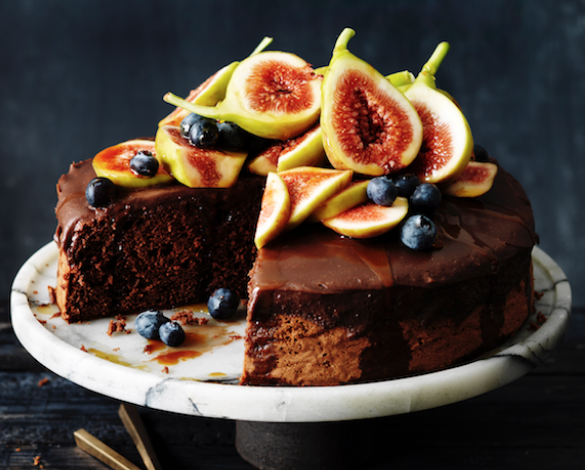 Ingredients
4 eggs, separated

1 cup caster sugar

⅓ cup milk

1 tsp vanilla essence

1 ¼ cups flour

2 tbsp cocoa

½ tsp ground cinnamon

1 ½ tsp baking powder

385 grams sweetened condensed milk

½ cup pouring cream

60 grams dark chocolate 70% cocoa, coarsely chopped

6 medium figs, sliced

125 grams blueberries

1 ½ tbsp vino cotto, optional
Instructions
PREHEAT  the oven to 160°C. Grease a deep 22cm round cake pan and  line base and sides with baking paper, extending the paper 5cm above the edge.
BEAT egg whites in a bowl using an electric mixer until soft peaks form. Gradually add sugar, beating until glossy and stiff.
COMBINE egg yolks, milk and vanilla in a bowl. With the motor operating, gradually add egg yolk mixture to egg white mixture, beating until well combined. Sift flour, cocoa, cinnamon and baking powder onto mixture and gently fold through. Pour mixture into pan and smooth the surface.
BAKE cake for 1 hour, turning the pan halfway through cooking, or until a skewer inserted into the centre comes out clean.
Remove from the oven and poke holes into the cake.
COMBINE condensed milk and cream in a pot over a low heat until just warm. Add chocolate and stir until melted and smooth.
POUR chocolate milk mixture over hot cake and spread to coat the top. Leave the cake in the pan to cool.
TRANSFER cake, top-side up, to a cake stand or plate. Decorate cake with figs and blueberries; drizzle with vino cotto.
Tip: Vino cotto is a sweet-sour syrup made from grapes. It is available from specialty food stores, delicatessens and some large supermarkets. If unavailable, simply omit or use a good-quality aged balsamic vinegar.
Recipe and Image: Aremedia