The benefits of activated charcoal are endless. From purifying charcoal masks to teeth-whitening toothpaste, activated charcoal has become a trending health and beauty ingredient – but what makes it so special and how can we harness its unique benefits?
Unlike regular charcoal, activated charcoal has a range of detoxing properties and health benefits. This wonder ingredient is formed when ordinary charcoal is heated to very high temperatures in the presence of air to produce a highly porous powdery (sponge-like) material with a large surface area that is able to attract dirt and toxins like a magnet, helping to remove them from the body. Here are some of the health and beauty benefits of activated charcoal…
Eight ways you can use activated charcoal for health and beauty:
Teeth Whitening
Nowadays you can find many toothpastes that include charcoal for whitening – this is because activated charcoal latches on to particles that cause stains on teeth and gently removes them.
Hangover Cure
Taking an activated charcoal supplement before drinking alcohol can help to lessen the after-effects by helping your body to process the toxins better – meaning you may wake up with a clearer head.
Digestive Health
Many people choose to take an activated charcoal supplement daily or weekly to help cleanse and detox their digestive tract – removing any toxins that could cause potential health problems.
Poison Treatment
Thanks to its sponge-like detoxing properties, activated charcoal is often used in emergencies when someone has ingested poisonous substances like bleach or pesticides to help absorb toxins from the body.
Acne care
Activated charcoal helps to absorb oil from the skin which can improve the skin's balance and help to reduce acne and pimples.
Healing wounds & bites
Activated charcoal creates an ideal healing environment for minor wounds and bites by absorbing bacteria and toxins to reduce inflammation and prevent infection.
Skin Detox
Activated charcoal acts as a magnet, attracting dirt and oil that block the pores. Using a soap that includes activated charcoal, for example, Lifebuoy's new Activated Charcoal & Mint can help to deep cleanse your skin, leaving it feeling oil-free and deeply cleansed.
Purifying Water
People have been using activated charcoal as a natural water filter for years, placing activated charcoal in drinking water can help to filter out any unwanted chemicals or toxins making the water healthier to drink.
Here are some beauty hacks that you can try at home courtesy of Lifebuoy: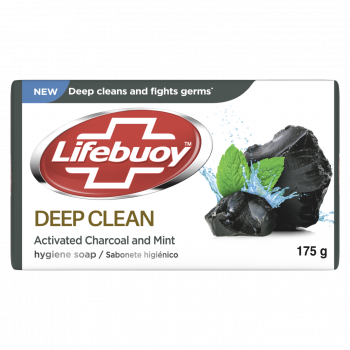 FOOT SOAK
Using a fine grater, grate an activated charcoal bar into little particles, add some coarse salt to the mix and dissolve in water for an awesome foot soak that will draw impurities out, while refreshing and softening your skin.
CLEAN MAKE-UP BRUSHES
Make-up brushes contain oils from make-up and other impurities when it comes into contact with skin. Immerse your dirty makeup brushes in a soap & water solution including an activated charcoal soap bar. Dirt and oil will be stripped from the brushes after leaving them for a few minutes. Rinse and enjoy!
TAME EYEBROWS
Wet an activated charcoal bar slightly, rub your eyebrow brush along the surface of the bar so it scoops up some lather. Gently brush your eyebrows in an upward direction. Repeat as required. Allow to dry for sleek tamed eyebrows.
ALSO SEE WHAT TO KNOW WHEN SHOPPING FOR CLEAN BEAUTY PRODUCTS 
brought to you by Lifebuoy