For some the idea of a bubble bath brings up visions of kids in a tub splashing about, having fun causing general chaos and mess. But I am here to show that the adult bubble baths does exist, and it's bliss. You just have to give it a chance and do it right. The perfect bubble bath can be a place of solace, calm and rejuvenation.
It's a common element of many self-care routines, for good reason. Nothing calms me down, relaxes me and lifts my mood quite like the perfect bubble bath. If done right you'll feel like you're in a warm cocoon, safely wrapped away from the world for a few precious minutes – emerging a whole new butterfly. Here's how to do it.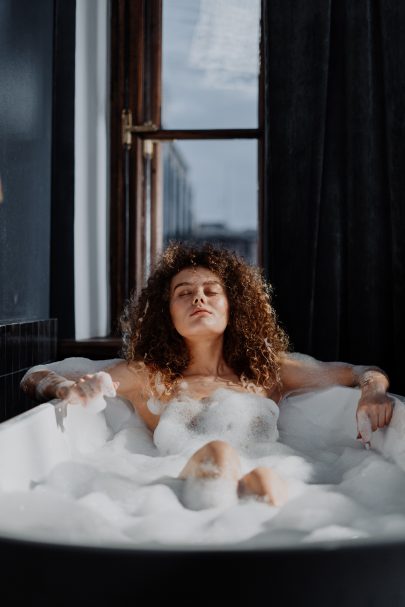 The perfect bubble bath water
Not too hot, not too cold. Ice baths and cold water swimming may be a thing, but we're here for a long, relaxing bubble bath. Make the water too lukewarm and you'll be uncomfortable in minutes. Too hot and you'll be sweating in no time. Though the temperature of your bath is not just important for your comfort. A bath that is too hot can dehydrate your skin by damaging the keratin cells found on the outer most layer.
The perfect bubble bath temperature is said to be 40°C. This temperature is safe for your skin but warm enough to soak in for a while. And we are aiming to soak in the tub for a while. At least 10 – 20 minutes allows you to soak up health and relaxation benefits.
The perfect bubble bath atmosphere
Without too much fuss you can create a spa atmosphere right in your own bathroom. First step is lighting. While you could dim your electrical lights, I like to make bubble bath time free from as much technology as possible, taking me as far as the lights! Candles, scented or not, are my way to go. I enjoy putting them at different heights around the bathroom to give that nesting feel. Now you just have to decide whether your spa serves wine or cucumber water.
The perfect bubble bath bubbles
This is the fun part, choosing the bubbles! You want to pick something with a gorgeous scent, lasting foam potential, and made by a trusted brand who uses quality ingredients you and your tub will love. The Milky Bath Reusable Bubble Bar from Lush has somewhat of a cult following among fans. Made with soothing oat milk it's the perfect bedtime bath addition that softens the skin and creates a mountain of subtly scented bubbles. And of course, it is vegan made with safe and natural ingredients.
A local alternative is Mies Bubble Tub – a sulphate-free bubble bath formula, made with plant-based ingredients and free of harsh, drying artificial chemicals. The family-friendly foam has the fresh citrus fragrance of lemon and tangerine oils for bright bathtimes. I also love anything Charlotte Rhys, including their Keylime & Ginger Foam Bath. This invigorating locally made and cruelty-free formula sparkles with notes of cinnamon, citrus, florals and Sandalwood – a personal favourite blend.
If it is a nourishing and luxurious bath soak you're after, then turn to L'Occitane's Shea Bubble Bath. Infused with 5% shea butter it creates a rich, generous foam that soften the skin and prevents dryness while promoting relaxation and comfort. Light your candles, keep your towel nearby and hop in!
ALSO SEE: