The new school year is in full swing and so are the activities, emotions and experiences. Even if your little one isn't new to school, this can bring on more anxiety and tiredness than before, given the past two years of the Covid-19 pandemic. It is important to ensure the whole family can cope from the inside out. While a healthy diet is the best start, a range of supplements, like the gummy vitamins from NutriPure Kids, is the surest way to keep your babes safe and sound.
Why you should consider a vitamin supplement for kids
Little ones need to be getting all the essential nutrients to function optimally while navigating the demands of the school year. A mix of good nutrition, exercise and naturally sourced supplements like NutriPure Kids will help support sustained focus, brain function, attention span, energy levels and even emotional wellbeing. Given the busy days kids have, we have to do all we can to keep them going and having fun!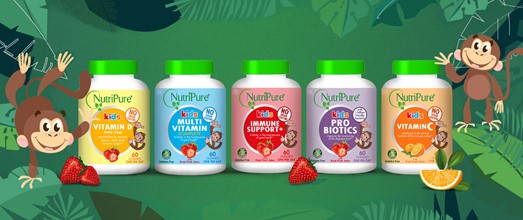 Now that everyone is back in the classroom there's another factor to consider more so than before too: immunity. We all know how easily kids catch things! Due to their young immune systems and their proximity to one another, children are prone to picking up colds and flu. Now there is the added threat of Covid-19. It is pivotal to ensure that their immune systems are geared up to fight off whatever viruses they may be exposed to.
ALSO SEE – KIDS YOGA: WHY AND HOW YOUR KIDS SHOULD START
The most important nutrients kids need now
Vitamin C
This nutritional multi-tasker is responsible for everything from the development of healthy bones and teeth, to wound healing and supporting the nervous system. It's also one of the most necessary nutrients to maintain one's overall health. As a powerful antioxidant it can boost a child's immunity and help the body fight off viruses.
Try the NutriPure Kids Vitamin C, R110 for 60 gummy vitamins.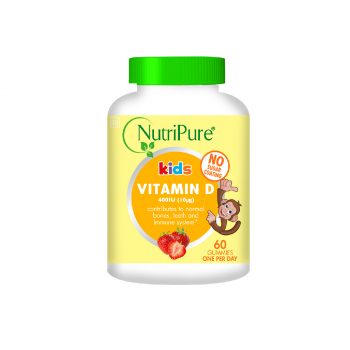 Vitamin D
Vitamin D helps the body absorb calcium and phosphate. As these are both essential for strong bones, kids should take a daily Vitamin D supplement for strong bone and muscle health. Recent studies have also shown that this vitamin plays a major role in building and maintaining a child's immune system. It is therefore great at protecting them against colds and flu.
Try NutriPure Kids Vitamin D, R109 for 60 gummy vitamins.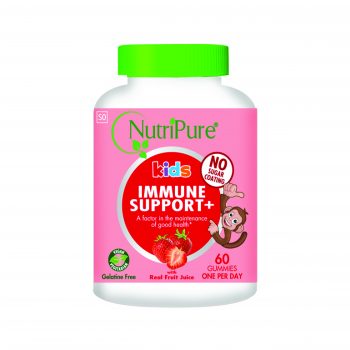 Vitamin B12
This particular B vitamin is difficult to come across in foods, especially if your child doesn't often eat meat. A Vitamin B12 supplement is essential for maintaining the health of blood cells and nerves, promoting healthy growth and supporting the normal functioning of the immune system.
Try NutriPure Kids Immune Support +, R110 for 60 gummy vitamins. These gummies contain Vitamin C, B6 and B12 to help metabolise carbohydrates, fats and proteins while providing the necessary essentials to maintain good health.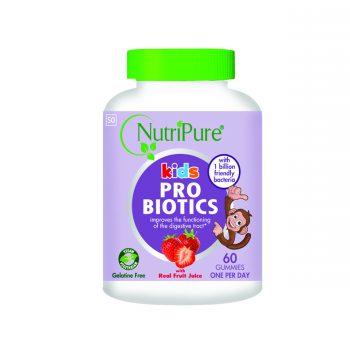 Probiotics
Everything starts with the gut! Modern medicine has spent much of the last years researching how connected physical and emotional wellbeing, plus immunity, are to the gut. And it is not just yours that needs additional help every now and then. Probiotics promote healthy gut bacteria, which aids the successful absorption of nutrients and support the body's digestive functions. They also help fight off 'bad bacteria' , which can lead to diarrhoea and other uncomfortable gastrointestinal problems.
Try NutriPure Kids Probiotic, R153.95 for 60 gummy vitamins. It is formulated with Bifidobacterium infantis & Lactobacillus rhamnosus, two scientifically tested bacteria strains that promote healthy gut bacteria.
Why NutriPure Kids?
NutriPure gummies are made using real fruit juice, making them extra soft and juicy. Your little ones will love them! They are also suitable for even the most sensitive bodies as the are:
Gluten-Free
Free from Artificial Flavours
Free from Artificial Colours
Free from Milk, Wheat, Eggs, Nuts
Free from Artificial Sweeteners
Free from GMA ingredients
Free from Preservatives
NutriPure products are available at Clicks, Dis-Chem, Takealot.com, Faithful to Nature, Spar and Pick n Pay.
ALSO SEE: