What's for Sunday lunch? Try this perfect roast beef with a gorgeous gravy. The perfect comfort food!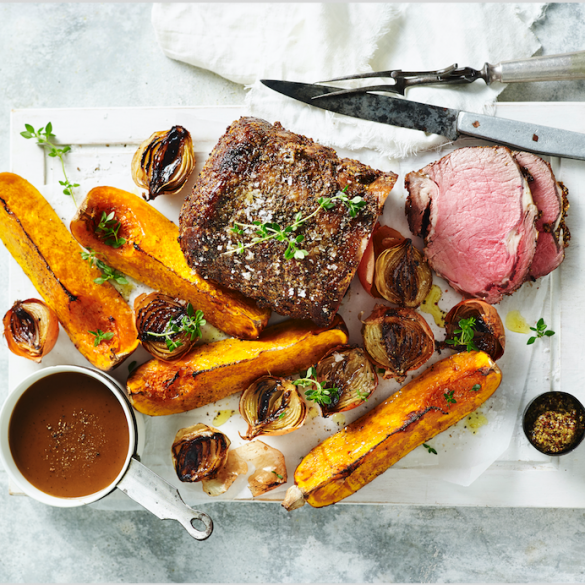 Ingredients
1.5 kg piece ribeye steak or beef silverside

2 tbsp olive oil

2 tbsp wholegrain mustard

400 g small pickling onions, unpeeled, halved

1 ½ cups water

1 cup beef stock

1 kg butternut, unpeeled, cut into wedges

2 tbsp flour

1 ½ cups beef stock, extra
Instructions
PREHEAT the oven to 200°C. Tie beef at 2cm intervals with kitchen string.
HEAT half the oil in a flameproof roasting pan over high heat. Add beef; cook, turning on all sides, until browned. Spread mustard over beef. Place onions in a pan, around beef and season. Pour the water and stock into pan.
PLACE pumpkin on a baking-paper-lined oven tray; brush with remaining oil, season well.
ROAST beef and pumpkin on separate shelves in the oven for 10 minutes. Reduce the oven to 180°C and roast a further 45 minutes for medium or until beef is cooked as desired and pumpkin is  well browned and tender. Add extra water to the beef  if the pan juices evaporate or begin to burn during cooking. Transfer beef to a plate; cover to keep warm.  Once the pumpkin is cooked, reduce the oven to 120°C to keep vegetables warm.
POUR pan juices into a jug. Skim and discard fat from the surface of juices. Return ¼ cup of the pan juices to the baking dish, stir in flour; stir over medium-high heat until mixture is well browned. This will give the gravy a rich colour and flavour. Gradually stir in remaining pan juices and extra stock; stir until gravy boils and thickens slightly. Season. Strain gravy into a medium heatproof jug.
SERVE beef and onions with gravy and pumpkin
TIP: Roasting time for beef per 500 g, cook at 200ºC for: Rare 15-20 minutes, Medium 20-25 minutes, Well done 25-30 minutes.
ALSO SEE: