Meat-free Wednesdays just got a whole lot more fun. Avocado is already one of those ingredients that just add so much to your dish, just imagine the combination of Avo and mayo, your life might just change forever. Let's have a look at this quick snack recipe.
These spicy potato fritters (also known as Maakouda) are a traditional Moroccan snack, with a crispy exterior which is simply delicious!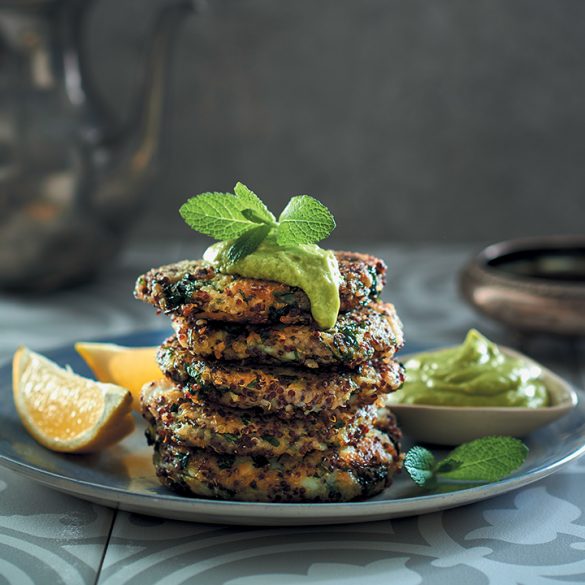 Ingredients
For the Spicy Potato Fritter Stack

4 large potatoes, peeled and boiled until soft

300g red and white quinoa mix, cooked according to packaging instructions

handful fresh mint, chopped + extra leaves, to garnish

handful fresh flat-leaf parsley, chopped

salt and freshly ground black pepper, to taste

olive oil, to shallow-fry

Avocado Mayonnaise

60ml (¼ cup) olive oil

2 – 3 ripe avocados

1 tbsp freshly squeezed lemon juice

1 tbsp Dijon mustard

salt and freshly ground black pepper, to taste

lemon wedges, to serve
Instructions
For the maakouda, combine the potatoes, cooked quinoa, mint and parsley in a large bowl. Mix until well combined and season to taste. Carefully scoop ⅓ cupfuls of the mixture and shape into 7cm-diameter patties.
Heat a few big glugs of olive oil in a large frying pan placed over medium heat. Fry the patties until golden brown, 3 – 4 minutes per side.
For the avocado mayonnaise, place the 60ml (1/3 cup) olive oil together with the remaining ingredients in a large bowl. Using a stick blender, blitz the ingredients together until well combined and smooth. Refrigerate until ready to serve.
Serve the spicy potato fritters warm, garnished with a few fresh mint leaves. Enjoy with the lemon wedges alongside for squeezing, and the avocado mayonnaise for dipping.
ALSO SEE: