As the chilly winter winds gust outside and the rain comes pouring down, there's nothing quite like finding solace in the cosy comforts of home. One of the greatest joys of winter is indulging in mouth-watering, comfort foods that warm not only the body but the soul as well.
You know the feeling when that first bite hits you right in the soul and you do a little happy dance – everything feels so right. Whether it's a steaming bowl of soup, a hearty stew or everyone's favourite – a gooey toasted cheese sandwich, your go-to winter meal has the power to bring comfort, happiness, and a sense of well-being.
We are about to explore the magic of a few winter comfort foods that will make your taste buds dance with joy.
Classic chicken pot pie
Nothing epitomizes winter comfort food like a classic chicken pot pie. This savoury dish combines tender chunks of chicken, vibrant vegetables (optional), and a velvety creamy sauce – all wrapped in a flaky, buttery puff pastry. The aroma that lingers through the kitchen as it bakes is enough to make your mouth water.
With each comforting bite, you'll experience a medley of flavours that will transport you to a place of sheer culinary delight. Serve it piping hot, and let the rich flavours and creamy texture warm you from within.
Don't be surprised if this dish becomes a staple on your winter menu.
ALSO SEE:
Sunday Special: spinach and feta pot pie
Hearty Beef Stew
When it comes to winter, a bowl of hearty beef stew is hard to beat. This slow-cooked work-of-art is a medley of tender beef (lamb can be used too), root vegetables, aromatic herbs, and a broth sauce that simmers to perfection.
As it bubbles away on the stove, the tantalizing aroma fills the air, promising a meal that will nourish both body and soul. The tender beef melts in your mouth, and each spoonful delivers a symphony of flavours that offer comfort, warmth, and pure satisfaction.
Food Tip: Pair it with your choice of rice or fluffy mashed potatoes, and let the indulgence commence.
ALSO SEE: 
Zola Nene's Beef Stew + Easy Dumpling Recipe
Gooey Grilled Cheese Toastie
It's the simple pleasures in life that never fails to bring a smile to your face and warmth to your soul. Like the moment when you pull a toasted cheese sandwich apart and the cheese stretches as you lift a slice. Is your mouth watering yet?
There's something undeniably comforting about sinking your teeth into a gooey, toasted cheese sandwich. The bread – perfectly toasted to a golden brown, encases a centre of melted cheese that oozes out with each bite.
The combination of textures, from the crisp exterior to the melty interior, is pure satisfaction.
Whether enjoyed on a cold day by the fireplace or as a quick pick-me-up after a long day, a gooey toasted cheese sandwich is the epitome of comfort food, reminding us that life's simplest pleasures can bring immense joy.
Food Tip: It makes for a great dipper into a soup too.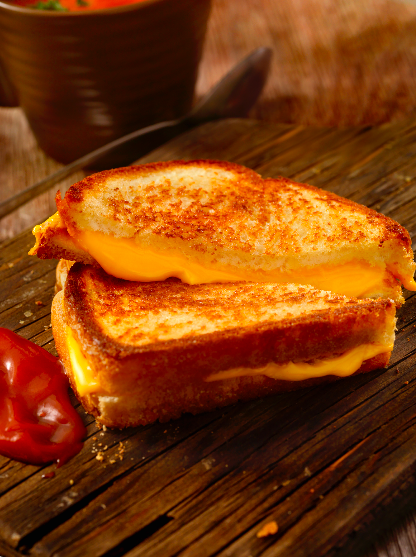 ALSO SEE:
Toasted Brioche With Orange, Thyme, Baked Plums And Whipped Goats' Cheese
Some other crowd-favourite comfort foods include:
Creamy Recco Pasta
Prawn Curry
Buttered Pancakes
Potato and leak soup
Spaghetti Bolognese
Winter comfort foods have an unparalleled ability to make us feel nurtured, content, and at peace. They have the power to evoke cherished memories, provide a sense of familiarity, and warm our hearts during the coldest months of the year.
So, gather your loved ones, savour the simple pleasures, and let these soul-warming comfort foods wrap you in a blanket of culinary bliss. Winter has never tasted so good!
ALSO SEE: 
Take your basic smooth soup to the next level with added texture
Featured Image: Getty