Who doesn't love a lekker, traditional vetkoek dish, especially with a mouth watering curry. What if we told you that you can grab a vetkoek, add some sugary goodness to it, and you've got yourself a tasty desert? Here's the recipe: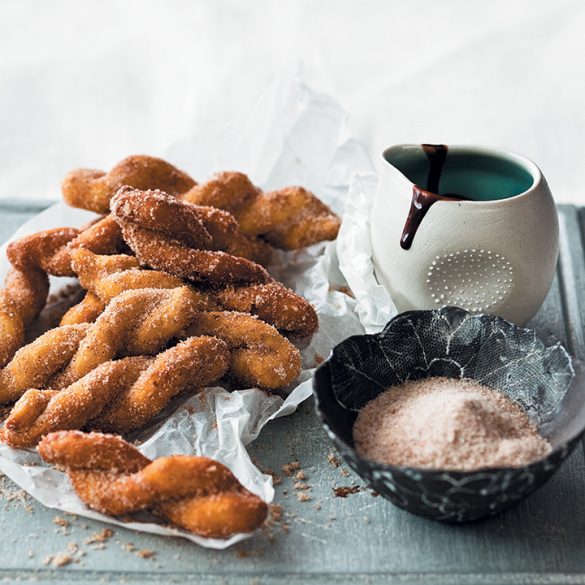 Ingredients
FOR THE SAUCE:

125g 70% dark chocolate with sea salt, chopped

15ml (1 tbsp) golden syrup

5ml (1 tsp) instant coffee dissolved in 15ml (1 tbsp) hot water

150ml cream

FOR THE VETKOEK TWISTS:

100ml milk

200ml water

200g cake flour

5ml (1 tsp) ground cardamom

10ml (2 tsp) baking powder

15ml (1 tbsp) vegetable oil, plus extra for frying

100g castor sugar

10ml (2 tsp) ground cinnamon
Instructions
SAUCE
Heat the chocolate, syrup, coffee and cream in a saucepan over low heat until the chocolate has just melted. Set aside until needed.
VETKOEK TWISTS
Heat the milk and water in a small saucepan until just about to boil.
In a large bowl, combine the warm milk mixture with the flour, cardamom, baking powder and oil and mix to form a soft dough. Allow the dough to rest while you heat the oil for frying.
Shape the dough into twists and fry until golden brown, about 1 – 2 minutes on each side. Remove with a slotted spoon and drain well.
Mix the sugar and cinnamon together and sprinkle over the vetkoek. Serve with the sauce on the side.
Tip from the team: If you are making vetkoek and mince, use any leftover dough to make these delicious twists.