If you love bacon or chicken, then this recipe was made for you. Put them together and your taste buds go straight to heaven with this winning combo recipe. A very simple quick and easy dish to prepare – the end result will leaves you with a 5-star cuisine meal.
Recipe and styling by Claire Ferrandi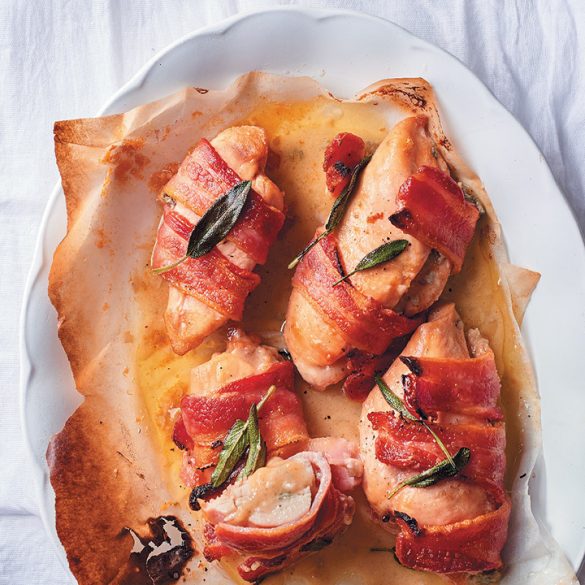 Ingredients
4 chicken breasts

Olive oil

Salt and freshly ground black pepper to taste

130g Gorgonzola

250g streaky bacon

A handful fresh sage leaves
Instructions
PREHEAT the oven to 180°C and line a baking tray with baking paper. Butterfly chicken breasts almost in half (you want to create a "pocket", so don't slice the chicken all the way through).
PLACE the chicken breasts on the prepared baking tray (do not open the butterflied breasts), drizzle with olive oil and season with salt and freshly ground black pepper to taste.
ROAST in the oven, 10 minutes. Remove from oven and stuff the cavity of the chicken breasts with Gorgonzola divided among the breasts. Using streaky bacon, wrap the chicken breasts in bacon and sprinkle with a handful fresh sage leaves. Place in the oven and cook until the chicken is just cooked through, about 5 – 10 minutes. Some of the Gorgonzola will leak out during cooking – simply spoon the cheese off the baking paper and serve alongside the chicken.