Sun protection is always in fashion! And with practical fashion on the rise, sporting a hat this Summer is both responsible and totally on trend. Here are the best Summer hats and where to get them:
A broad, floppy hat that folds into your beach bag without a struggle is the perfect wearable SPF for those of us on the go. The new range of Me&B sun hats evoke a certain nostalgia for something in between younger, carefree days and the type of hat you'd spot your granny in the garden with. Made with fun reversible prints and colours, along with the side ties, so you can run after the kids (or dogs!) across the beach without losing your head. We're pretty sure these are the sweetest Summer hats you'll find!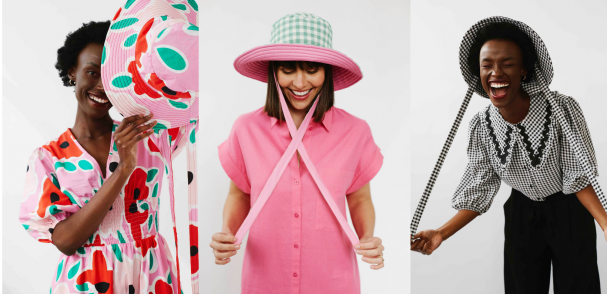 Dad hats are really just baseball caps, but the type that give off a 'dad vibe'.  They're definitely not a snapback, flatbrim or perfectly fitted. Unless you're a dad, then they probably fit just right. A dad hat is made from canvas or cotton, should look rather lived in and has a slight curve to the brim (careful, it can't be too curved though). Personally, I believe that dad hats should also reveal something about the wearer. Not anything too personal, but something nonchalant so as to mimic the original dad hats – think the John Deer cap your dad got for free at an agricultural show in the 80s. My own dad hat is from my favourite Cape Town wine bar, where you can find the coolest kids of Bree St mixed with dads sneaking in a glass of natural wine to 'skip traffic'.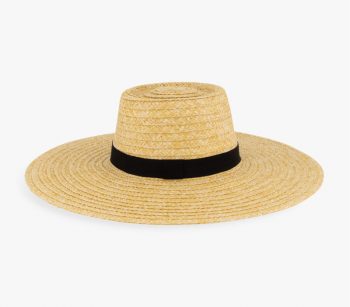 This classic sunny day statement has been popular since the late 19th and early 20th centuries. Originally made with a sharp edged flat top, today's versions vary with rounder features that fit heads a bit better. The broad rim is a must though! We love this version from Woolworths, complete with a simple black ribbon and an adjustable sweatband inside.
Want to add more fun? Customise the ribbon with a favourite brooch or add your own ribbon! A special silk scarf will be a great personal addition.
Another style of summer hats that was made popular in the late 19th and 20th centuries is the Panama. But did you know they are not from Panama but rather Ecuador? Genuine panama hats are hand-woven from "paja toquilla" , a palm leaf fibre (Carludovica palmata) in Ecuador, South America and are made no place else in the world, not even Panama!
Patti Zway of Pachamama sources genuine panama hats from Ecuador and sells them in South Africa, making her the only place to go if you're looking for excellent quality. While they come in a few styles, the fedora is our favourite.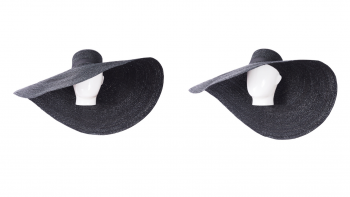 No list of summer hats – or winter hats, to be honest – would be complete without mentioning Crystal Birch. Crystal Birch is a maverick milliner, whose unique – and ever so stylish – designs of classic hats have become must-have adornments and beloved signature pieces of South Africa's fashion conscious. Each hat is expertly handmade using traditional methods in Cape Town's The Hat Factory (established in 1936 and now run by Crystal herself!), to create gorgeous modern hats full of character. The dramatic swooping shapes of the Bush Baby and Atlantis styles are iconic additions to any collection. What's more, these Summer hats are CANSA approved and offer certified UV protection: practical and fashionable.