Everyone knows that fashion trends come and go in cycles. With looks from bygone eras constantly resurfacing on style's radar, the latest trend might not even shock you, but peplum is back! And we're not upset about it…
You might be asking "WHO needs more material around their hips?" Be prepared to be pleasantly surprised. This modern take on a classic silhouette will shock you if you love an hourglass shape. Let's talk peplum trends 2023:
Uploaded by Who What Wear on Pinterest.
With an ode to the 1940s and 1950s, get ready to cinch the waist and extend the hips once again, in the name of fashion. This figure enhancing silhouette has remerged on runways, red carpets and on the streets. Peplum style brings a sense of timeless elegance and feminine charm. But how has fashion adapted it?
ALSO SEE: Wait, what? Sandals are the new winter shoes!
The peplum revival
You're either for or against peplum making a comeback. If peplum trauma from the past is clouding your judgement, don't let it! We'll show you how modern fashion turned this timeless look into a street style obsession.
We owe this fashion resurgence to designers like Alexander McQueen and Robert Wun, showcasing the trend through their spring/summer and autumn/winter collections on the runway.  Now, celebrities and fashion influences have tapped into the look, showcasing the versatility and allure of the peplum silhouette.
Whether it's a peplum top paired with tailored pants or a peplum dress that hugs in all the right places, the style can easily add a touch of drama and elegance to any outfit.
With a modern twist…
The peplum style has seamlessly adapted to modern sensibilities, not narrowed down to only the traditional scuba material frill around the waist.
Designers have experimented with various lengths, shapes, and fabrics giving classic peplum shape high fashion status to ensure it suits different body types and occasions. From sleek and structured peplums for professional settings to flowing and romantic iterations for evening wear, the versatility of this style knows no bounds…
Uploaded by MEAN BLVD on Pinterest.
Now, peplum designs transcend traditional dresses and tops to jumpsuits, skirts, and even outerwear, making the style accessible to all shapes and sizes.
Peplum tops from the Robert Wun SS23 couture collection pic.twitter.com/qll2F1Sd00

— Style Snob Magazine (@stylesnobmag) January 26, 2023
Fabulously flattering…
On contrary to popular belief, one of the most appealing aspects of the peplum style is its ability to flatter a wide range of body types. The flared overskirt cleverly accentuates the waistline, creating an illusion of curves for those with straighter figures.
Simultaneously, the peplum's draping effect and strategic placement draw attention away from the midsection, providing a slimming effect for those conscious of their stomach area, allowing you to embrace your unique shapes and feel confident in your look.
ALSO SEE: Increase the longevity of your pantihose this winter
Harking back to when dressing up was a form of art, the return of the peplum style brings a refreshing sense of timeless elegance.
Fashion pointers on peplum
Choose the style in a soft material!
Tailor to your proportions. Your pants or skirt should be fitted and streamlined.
Use contrasting accessories. Peplum is very feminine, so pair with edgy accessories.
Perfectly placed peplum will camouflage a mid section.
Peplum is not only for tops. Look for a dress!
Uploaded by Karen Millen to Pinterest.
Shop peplum looks
Are you ready to welcome peplum back into your wardrobe? Here's your shopping guide: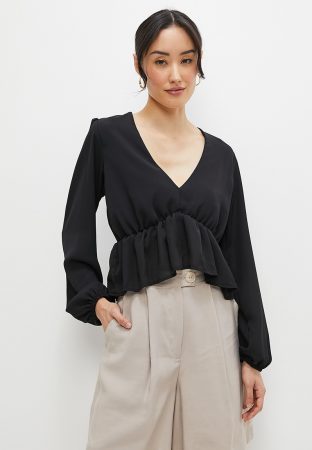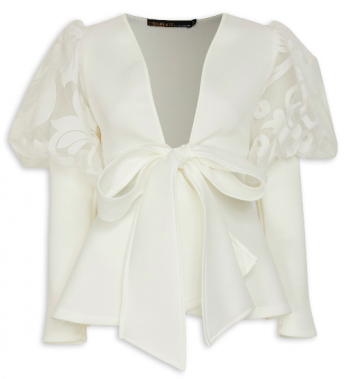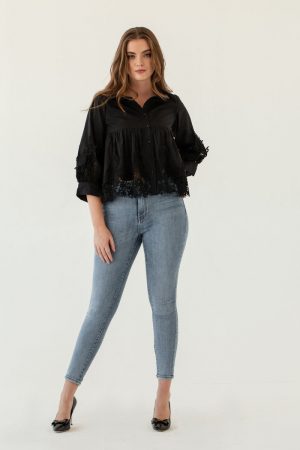 Something Pretty: Peplum Shirt for R899.00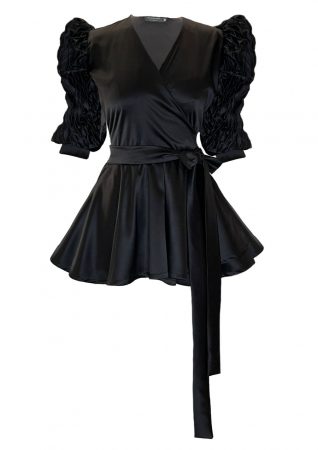 Gert-Johan Coetzee: Peplum Wrap Top – R 3,500.00
ALSO SEE: 
Feature Image: Instagram / @alexandermcqueen