With Women's Month in full swing, what better way to celebrate than taking a trip with the girls? 
And there's certainly never a wrong time to pack your bags and enjoy a weekend away with a few friends, especially if it includes plenty of giggles, board games and late-night chats.
Allow the soft purrs of the ocean to whisk you off to sleep, or the dramatic mountain vistas to keep you and your gals company. Here are some of our favourite Cape Town spots to check out if you're looking to escape with the girls:
Speaking of dramatic, there's nothing more majestic than watching the sunset and the moon rise from behind the Witzenberg Mountains on La Bruyere Farm. This heavenly spot is surrounded by wild olives and towering oak trees and ensures a relaxing escape with friends with Huckleberry's themed three bedrooms. It's rustic South African charm at its finest, with a sprinkle of international flair for good measure.
Who needs to spend 24 hours on a plane to travel to Bali when you can enjoy a Balinese escape right here in the Mother City? This four-bedroom "tropical" escape is the perfect paradise for a large group of friends looking to breathe in the fresh ocean air and soak up a little sun. Sit back and relax on the wooden veranda, take a dip in the sunken swimming pool, or head down to the beach which is a quick walk away – the options are endless!
A farmhouse on a hill? Yes, please! This country-style accommodation offers incredible views of the Cape Winelands and the rolling Swartland hills and valleys, with a sprawling swimming pool offering the perfect respite from the sweltering heat that this West Coast town is renowned for in the summer. Each of the four bedrooms is elegantly decorated with a large garden and plenty of fun activities to get up to in the area, including horse riding.
Another seaside gem, this four-bedroom luxury villa is nestled in the Castle Rock Nature Reserve and is literally a stone's throw away from the ocean.  Along with an abundance of ocean smells and sounds, the accommodation offers a tranquil setting surrounded by dramatic mountains, perfect for a weekend away in nature.
Located in the Banhoek Valley, this three-bedroom Scandanavian-style cottage offers incredible views of the Drakenstein and Simonsberg mountains and is the perfect escape from the bustle of the city. The cottage is nestled alongside a dam and is a short ten-minute drive from the bustling town of Stellenbosch. Spend your afternoons in the warm waters of the on-site hot tub or explore all that this sprawling farm and the neighbouring wineries have to offer.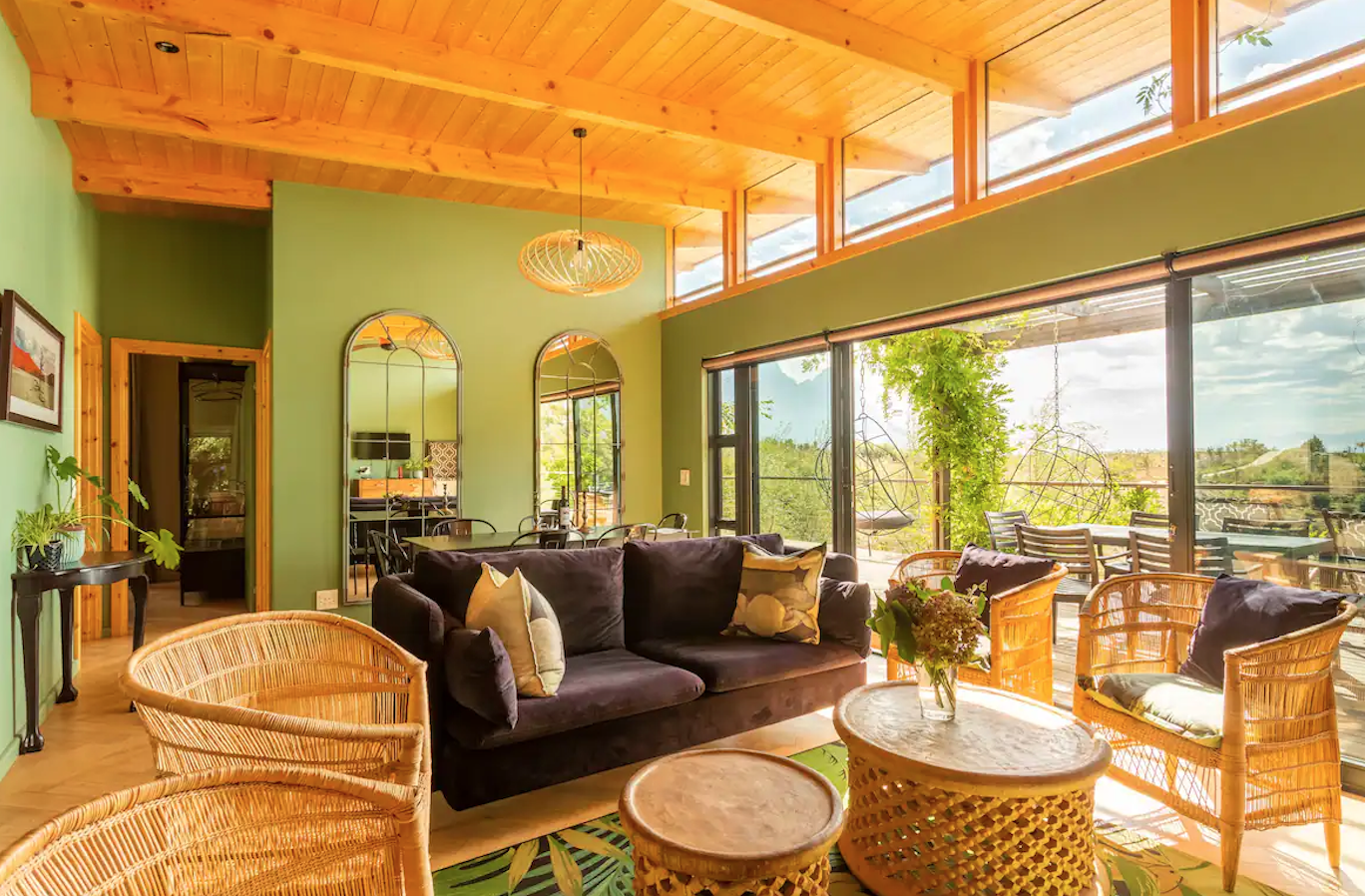 Author: Lynn Cupido
ALSO SEE: 
From spas to getaways and adventures – Fabulous Women's Day specials
FEATURE IMAGE: Airbnb