In the lush hillside neighbourhood of Los Feliz, next to Hollywood Hills, sits Vanessa Hudgens's home. And thanks to Architectural Digest we have all been able to take a sneak peek inside! Last week AD featured the actress's European-inspired sanctuary in their popular 'Open Door: Inside Celebrity Homes' YouTube series, and had us all promptly falling head-over-heels for French oak floors, walls covered in ivy and gardens filled with olive trees.
Here's what Woman & Home loved about Vanessa Hudgens's home the most:
The Greens
'I love having big plants. I think it's so important to just bring life into your home,' says Vanessa. Each room of the house features a big plant or three and the bouquets are kept leafy but massive. The gorgeous variety of greens make a statement, but the plants are all rather low-key and low-maintenance.
Nothing is done is excess.  Same goes for the outside spaces and garden. The trick? Sticking to fruit trees, evergreens and not investing in many flowering plants. Although all that ivy on the walls definitely takes a crew to keep neat!
Curated by Stories
Vanessa Hudgens's home is brought together by history. Not only is it a historic home – built in 1922 by director Cecile B. DeMille for his mistress, and so called the Little DeMille – but almost everything inside it has a story that the actress can relay to you with ease. There's the dusty pink mohair sofa which Vanessa picked up at a vintage store, the 1950s chandelier, the sconces from Obsolete in the bedroom, her collection of vintage books found all over the world, the poster of a French film she loves and the breakfast nook couch she had made to look like a New York restaurant she frequents.
Perhaps one of the best pieces is the Richard Avedon portrait of Marilyn Monroe, which Vanessa chose because of the different side to Marilyn it shows. 'This just seems like an in-between moment, like she's really lost in her thoughts, and it just seems like a very vulnerable, personal image of her,' says the actress.
Everything Comes Together
'We love when it all ties in together,' says Vanessa as she walks from her marble topped bedside tables to the matching marble tops of her en-suite bathroom. It's a common theme in Vanessa Hudgens's home, it all comes together in conversation. The leftover tiles from her bathroom floor were repurposed during her pandemic kitchen renovation as a backsplash moment. The wooden dining room table is made to echo the 18th-century French oak floors that run throughout the entertainment spaces. The art-clad walls of her home extend into the garden where she commissioned a mural of one-line faces along a previously bare wall.
It's obvious that Vanessa has taken time to pay attention to the finer details and make her home, truly hers.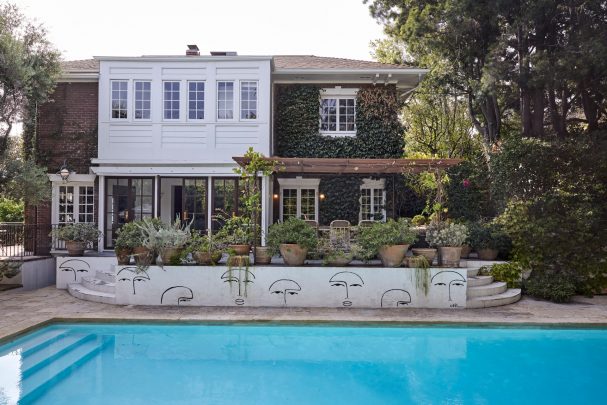 All images from Architectural Digest, captured by Jenna Peffley. Need some decor inspiration? Find more here.