We hate to admit it, but screen entertainment has got many of us through this pandemic. The good news is that with the world opening up again, the film industry is almost back to its full glory. Coming with that is a flurry of 2022 movies we just cannot wait to watch! From reboots and remakes to some potential award-winning masterpieces, here are the top movies to look forward to this new year.
Women to the front
Don't Worry Darling
This looks to be the sexiest psychological thriller of the year, with a phenomenal – and gorgeous – cast directed by Olivia Wilde. This will be Wilde's second time directing a film, her first being the brilliant hit Booksmart. Co-screenwriter of Booksmart Katie Silberman wrote the film, so you can be sure of a great screenplay and fresh storyline. Florence Pough stars as a 1950's housewife living in utopian suburbia who discovers a disturbing truth, while her loving husband – played by Harry Styles – hides a dark secret. The film is only set for release in September 2022, but the teaser trailer has been released for our enjoyment:
The Woman King
Perhaps one of the most anticipated 2022 movies for South Africans is the historical epic, The Woman King. The film is directed by Gina Prince-Bythewood and inspired by true events that occurred in The Kingdom of Dahomey, one of the most powerful states of Africa in the 18th and 19th centuries. It follows the general of an all-female military unit played by Viola Davis and an ambitious recruit played by South African Thuso Mbedu. Rumoured to be filmed in South Africa the cast now also includes South Africans Seputla Sebogodi (of Generations fame) and Makgotso Monyemorathoe (an Isidingo actress). The film is set for release in September.
View this post on Instagram
She Said
Set for release in November, this sure-to-be powerful film follows the high-profile case of Hollywood producer Harvey Weinstein's gross abuse and sexual abuse against women that spanned across three decades. The screenplay has been adapted by Rebecca Lenkiewicz from the 2019 book of the same name written by the New York Times journalists Jodi Kantor and Megan Twohey who exposed Weinstein back in 2017. The cast includes Zoe Kazan, Carey Mulligan and Patricia Clarkson, and is directed by Maria Schrader of the acclaimed Netflix mini-series Unorthodox. It is sure to be a 2022 movie everyone will be talking about.
View this post on Instagram
Reboots and Remakes
Downton Abbey: A New Era
Our very favourite British family are coming back to the big screen in March! This will be the second film created as an extension of the original series, the trailer hints at a little travel ahead of the Crawleys. It is set to be one of the most joyous 2022 movies with weddings, secrets of The Dowager Countess coming to light and something to do with the South of France. We wrote about all we know last year here.
Legally Blonde 3
After years of rumours and setbacks, Legally Blonde 3 is in the works! It's been over 20 years since Elle Woods first came into our lives and started a cult following but she is as relevant (and as admired!) today as she was back then. The reboot of the Legally Blonde franchise was given the green light back in 2018 but with the pandemic its release date was pushed to May 2022. However the film has been kept extremely secret. No plot or cast has been released to the public. In November 2021 Mindy Kaling (co-writer for Legally Blonde 3) said they were still working on the script! Here's hoping another delay isn't on the cards…
Hocus Pocus 2
It seems that 2022 movies will be dominated with fantastic reboots. Another old favourite is making its comeback, and with the original star cast in tow too. Bette Midler, Sarah Jessica Parker and Kathy Najimy will all be reprising their roles as the Sanderson Sisters of the 1993 film Hocus Pocus. While there is no release date yet, the plot of the second movie is rumoured to be  around three young women accidentally bringing the child-hungry Sanderson Sisters back to life in modern day Salem. In the meantime, Disney has given us a sneak peek of the cast back in their original costumes, kooky hair and all!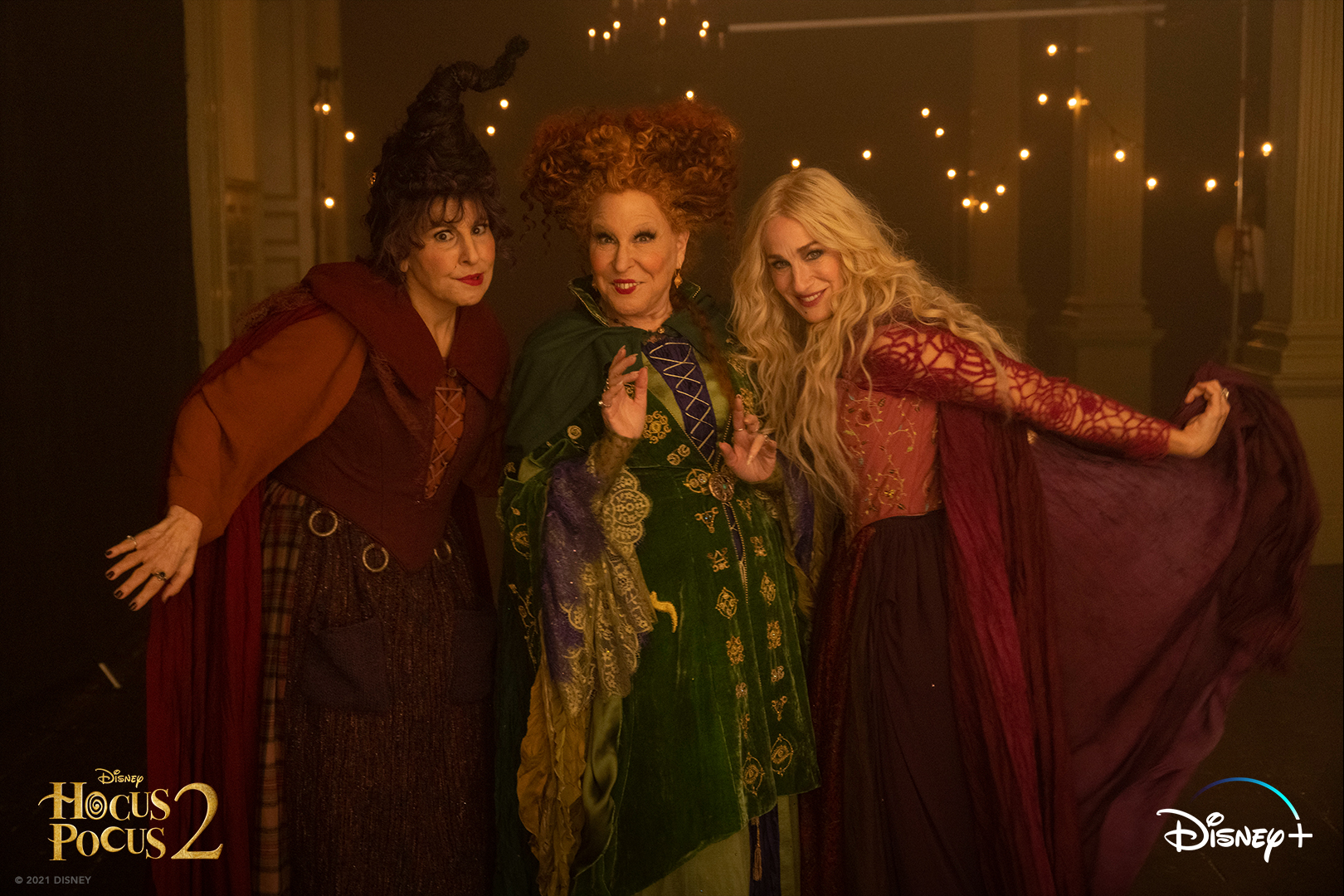 Legendary Directors
Babylon
The youngest winner of an Academy Award in the Best Director category, Damien Chazelle, is back in 2022 with Babylon. Directed and written by Damian, starring Brad Pitt, Margot Robbie, Tobey Maguire, Olivia Wilde and even Flea from The Red Hot Chili Peppers, the buzz around Babylon is palpable! Most details are under wraps for now but it is rumoured to be a Hollywood period piece, especially since it surfaced that Margot Robbie is playing a Clara Bow (the 'It' girl of the 1920s who starred in silent films and later 'talkies') inspired character.
Elvis
Director, writer and producer Baz Luhrmann brought the exquisite worlds of Romeo + Juliet, Moulin Rouge! and The Great Gatsby to life, and in the 2022 movies he'll be giving us a biopic of Elvis Presley. Hitting screens in June, the film is said to cover 20 years of Elvis Presley's life with Austin Butler playing the King. Here's the moody first look at what is to come:
View this post on Instagram