It's finally the end of the year, which means there's no better time to get into the holiday spirit!
While everyone north of the equator is grabbing their jackets and cosying up inside, in South Africa we're grabbing our cozzies and gearing for hot, festive fun. Whether you're heading to the bush, the beach, or even just a family braai at home, these whisky cocktails will hit the spot.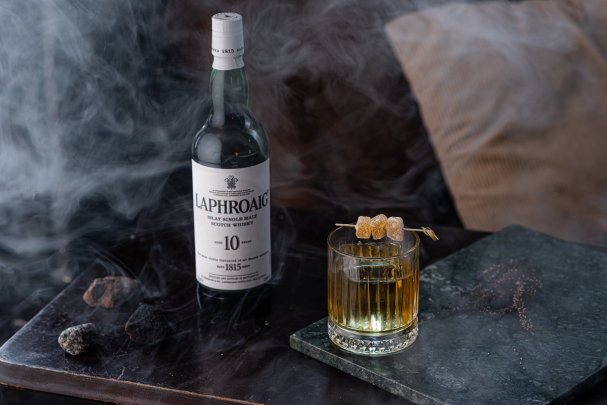 Sip a sundowner in the bush… Old Peat
Picture this: you've spotted an elephant and a lion on the game drive, the veld smells like fresh grass, and the dirt roads are still a little wet from the afternoon's thunderstorm.
The sundowner spot has been located and you're ready to stretch your legs. You get out of the vehicle, you're handed an Old Peat whisky cocktail. It's just the right combination of earthy, sweet, and tangy. You sip it slowly and watch the sunset over the African bushveld. Life is good.
If your December bushveld experience is more garden-shrub than acacia forest, don't worry! You can enjoy this tasty cocktail in the comfort of your own backyard. Just close your eyes and imagine.
To make an Old Peat you'll need:
60ml Laphroaig 10-year-old; 10ml ginger liqueur; 5ml agave syrup (or substitute with honey); and 2 dashes of Angostura Bitters.
Add all ingredients to an ice-filled mixing glass. Stir, then strain over an ice-filled rocks glass and garnish with candied ginger.
Sip alongside a seaside sunset… Smoke and Spice
There's nothing quite like a December beach holiday. The salty air, the warm evenings, the mild sunburn, the sand in your hair… It's the sign of a day well spent. The absolute best part of a beach holiday has got to be sipping on a cocktail while gazing over the ocean at sunset, knowing that the most labour you'll be doing the next day is applying your sunscreen.
While we can't all spend our holidays watching seaside sunsets and lazing around, we can make a cocktail and, at the very least, embrace the summer warmth. A Smoke and Spice cocktail is perfect for sipping seaside – or pretending you are.
To make a Smoke and Spice you'll need:
50ml Laphroaig 10-year-old; 2 finely sliced jalapenos; 15ml lemon juice; and 20ml agave syrup (or substitute with honey).
Add chilies to a shaker and muddle to release flavours. Pour all ingredients into the shaker. Fill with ice and shake for eight seconds. Double strain into an ice-filled rocks glass and garnish with a salt rim and candied ginger.
For sipping around a braai with your family… Smoky Old Fashioned
Spending the festive season at home doesn't mean you'll miss out on holiday fun. Ultimately, the end of the year is about family, and nothing screams family quite like a chilled braai at your place.
Those late-night fireside conversations are the ones you'll remember forever. And there's something uniquely South African about the smell of smoky steaks sizzling over the coals. Get the party going with a Smoky Old Fashioned. This zesty little cocktail is a winner – even for non-whisky-drinking family members. It's sweet, it's smoky, and it's by no means overpowering.
To make a Smoky Old Fashioned you'll need:
50ml Laphroaig 10-year-old; 2 dashes Angostura Bitters; and 5ml sugar syrup.
Add all ingredients to an ice-filled mixing glass. Stir and strain over an ice-filled rocks glass. Garnish with orange zest.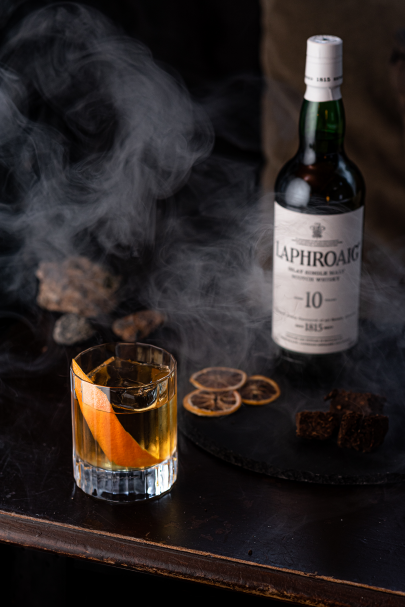 No matter what your festive season plans look like, these funky cocktails won't miss the mark. Here's to the holidays!
ALSO SEE:
Feature Image: Clockwork media