These ice cream Christmas trees are perfect for the warmth of the festive season.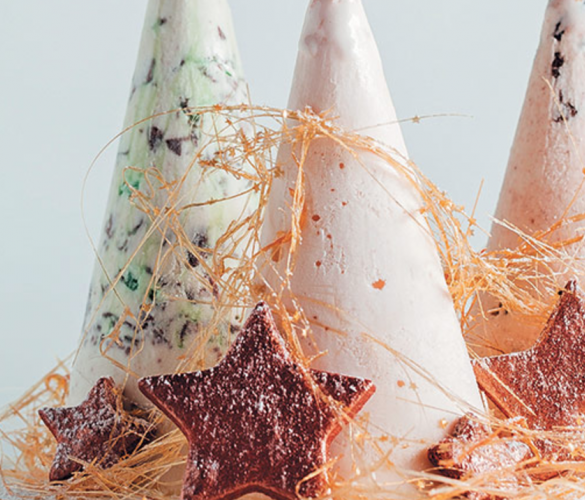 Ingredients
CONE MOULDS

6 acetate/transparent sheets (find at your nearest stationery shop)

sticky tape

ICE CREAM

2L store-bought vanilla ice cream softened

3 mince pies, chopped

100g almond flakes, toasted and chopped

1 x 150g slab Peppermint Crisp chocolate, chopped

1 x 150g slab of good-quality white chocolate, chopped into shards

TO DECORATE

spun sugar (optional)

star-shaped cookies (optional)

edible gold stars (optional)
Instructions
Step 1
Prepare the cone moulds by bringing the top right corner of an acetate/transparent sheet down to the middle of the sheet. Keeping the corner in place with your finger, roll the sheet up to form a tight cone (make sure the tip is closed) and secure the roll with a small piece of sticky tape. Place the cone tip upside down in a Champagne flute/tumbler filled with rice. Repeat with the remaining acetate/ transparent sheets.
Step 2
For the ice cream, divide the vanilla ice cream among 3 bowls. Add the chopped mince pies and almond flakes to one of the bowls. Mix until well combined. Set aside.
Step 3
Add the chopped Peppermint Crisp to the second bowl and mix until combined. Set aside.
Step 4
Add the shards of white chocolate to the third bowl and mix well. Set aside.
Step 5
Divide the mixture of the first bowl between 2 of the cones. Use the back of a spoon to level the tops. Repeat with the remaining bowls of ice cream, dividing the contents of each bowl between 2 cones and levelling the tops as you go. Transfer the cones to the freezer and freeze them overnight.
Step 6
To serve, remove the tape and unwrap the acetate/transparent sheets from the ice cream cones. Invert the cones onto a large frozen cake stand or serving platter.
Step 7
Decorate with spun sugar, cookies and edible gold stars, if desired. Serve immediately.