Summer living must be easy living. This is my motto when the sun comes out. And it rings especially true for my hair. Between ocean swims, spontaneous sundown cocktails, lots of sun time, pool dips and fitting in yoga classes, there is no time to be spent faffing! And yet, these can all take an enormous toll on your locks. Thank goodness I found the OGX Coconut Miracle Oil haircare products. I am, quite frankly, obsessed.
Summer hair can often have us battling dried-out strands, frizz, brittle ends, lifelessness and flyaways. However, with the right haircare products you can avoid all the unnecessary stress. And I have! The OGX Coconut Miracle Oil range is a solution for all ethnicities, all genders, all ages and all styles. Achieving the summer look you desire is simpler than you think.
The OGX Coconut Miracle Oil products
Whether you are looking for smoother, straighter, curlier, bouncier or simply healthier hair, OGX can help you. The OGX Coconut Miracle Oil range starts with the basics: pH balanced Coconut Miracle Oil Shampoo and Conditioner. These two will restore pH levels and nurture without being heavy. I am prone to washing my hair a little more in summer so the restorative coconut oil infused shampoo is a winning gentle cleanser during this time.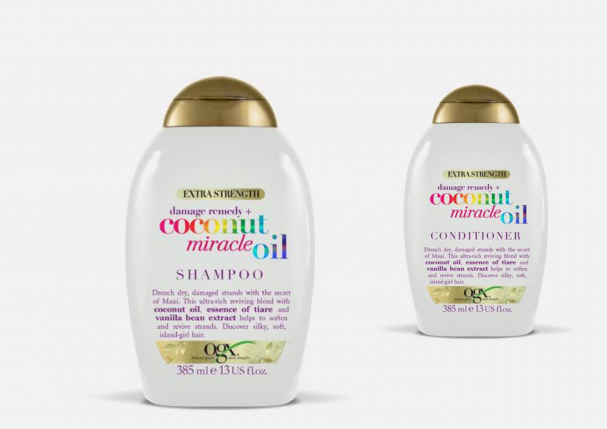 After the shower comes my favourite product, my ride or die haircare pal: the OGX Coconut Miracle Oil Air Dry Cream. This has transformed the way I style my hair! I have found the perfect way to shape and tame my subtle waves, or enhance them too. And you'll be surprised how quick and easy it is.
Using your hands, work the cream into your towel-dried hair, infusing a blend of  coconut oil, vanilla bean and essence of Tiare flower. This delicious smelling tropical blend will soften and revive your hair. It truly leaves every strand soft and silky as it dries without any styling tools or heat.
How I use the OGX Coconut Miracle Oil Air Dry Cream
If you're going for a straighter style, rub the Air Dry Cream on the ends (where most dryness usually sits) then softly rake your hands through your hair from top to bottom. Avoid your crown if you're prone to a greasy scalp, try starting from midway instead. With my waves, this technique helps create a classic sleek look.
If I want to enhance my waves and achieve more volume, I softly scrunch my hair from the bottom up with hands evenly coated in the Air Dry Cream.
Additionally, I use the Air Dry Cream on dry hair too. It reduces frizz, tames misbehaving flyaways and gives my tresses some extra moisture in between washes. It's a great on-the-go styling product that gives me flexible control 24/7. I've even slipped it into my beach bag to beat beach hair dryness after swims!
If you colour your hair or have hair that needs some extra love, try the OGX Coconut Miracle Oil Hair Mask for a 20min boost. Be warned, it smells so good you might want to use more than you need!
Let's talk pH balance
Why is there a focus on pH balancing haircare? Let's dive in.
Keeping the pH balance of your hair intact is central to maintaining your hair's natural structure. An imbalance can put strain on your hair. If your haircare products have a pH that is too low, your hair's self-cleaning abilities suffer. If the pH is too high, it can cause damage and lead to dreaded frizziness.
The OGX Coconut Miracle Oil products have all been created with pH balance in mind to keep your hair at its healthiest. The key benefits of these pH balanced products include:
Moisturising hair
Fighting off frizz
Soothing and smoothing hair
Preventing damage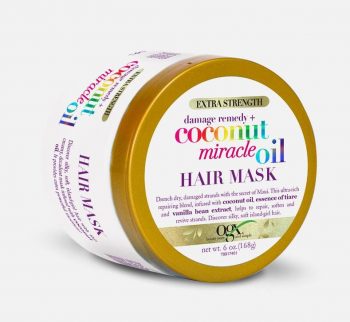 Where to purchase
The whole OGX Coconut Miracle Oil range is available at Dis-Chem Pharmacies, Takealot and Superbalist. All products are surprisingly affordable too, with nothing over R220.
ALSO SEE:
Beach staples: What does a beauty editor pack for the beach?