Day dressing combines casual and tailored pieces in airy textures and lightweight fabrics and should effortlessly take an outfit from day to night, and even from work to weekend. If you're struggling to incorporate this kind of laid-back yet put-together style into your wardrobe, Trenery's 'How to Wear' style series, where celebrated creative director and stylist Antoinette Degens offers some much-needed advice on elevating your look, is your answer.
"The Trenery Spring Collection includes a range of gorgeous pieces that are timeless enough to wear for seasons to come," says Degens. "Update your wardrobe with modern essentials like linen pants, printed dresses and classic cotton shirts that bring the heat and keep you cool. Complete the look with premium leather accessories. It's versatility at its finest."
Epitome of easy elegance
From tailored chinos for weekday polish to breezy linen trousers, the Trenery collection introduces you to some of the most stylish pants of the season and how to best wear them. "The Trenery wide-leg trouser is a key shape to invest in for this summer", advises Degens. "With linen being a key fabrication for spring, this is an incredibly flattering and effortless piece, while its gold sheen adds a hint of glamour to everyday dressing."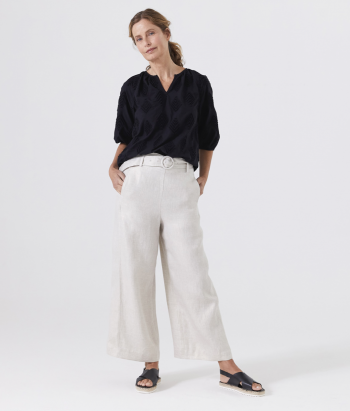 For those looking to add colour to spring summer dressing, Trenery's Amazon Green shirt offers a cool tropical flair while providing an excellent way to refresh your spring summer colour palette. Adds Degens, "Alternatively, the combination of black and flax tones is a softer way to offset opposing colours. The Trenery broidery blouse immediately adds depth and interest to a classic look."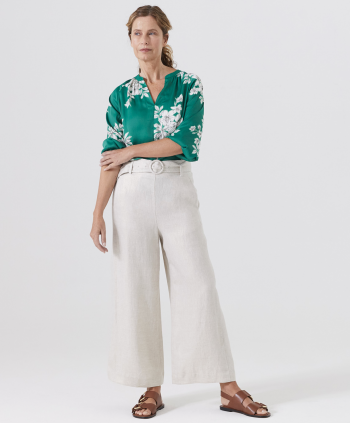 Dresses remain a popular summer staple, and an A-line silhouette offers a chic alternative to more fitted structures. Degens shares, "The Trenery A-line dress features pockets and three quarter button sleeve detailing. The bold colour sparks joy and adds a touch of drama for day or nighttime wear. Pair with timeless cognac or gold accessories to take the look to the next level."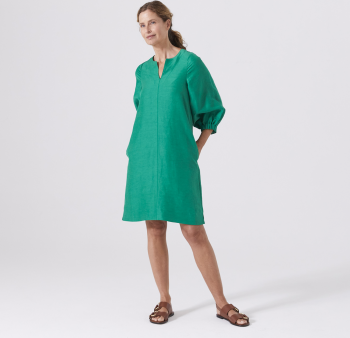 Stylish summer staples
The ultimate wardrobe essential – the little black dress – can be a head-turning look for day and night. "The ultimate little black dress in the collection boasts a renewed structured silhouette and works beautifully paired with softer summer accessories. As we're all about versatility and simplicity in our wardrobes, this dress can be easily updated for evening wear with your favourite lip colour."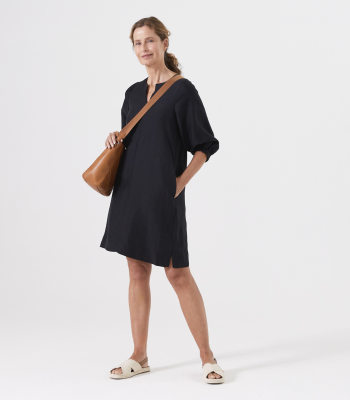 The white shirt is a cool summer classic. "A good quality white shirt is a favourite for all seasons. The Trenery shirt, with panel detailing and a long curved hem, is a refined take on a classic investment," Degens adds. "Pairing it with tailored floor-length pants creates an elongated shape that's as flattering as it is stylish. For warmer days, why not combine with more formal shorts for a polished summer look."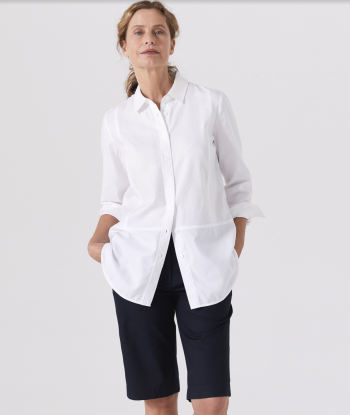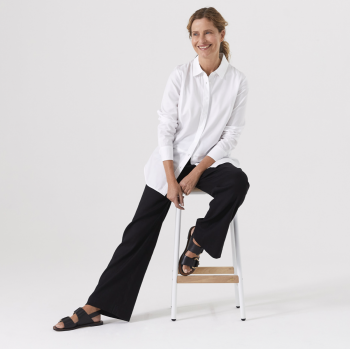 "These summer pieces strike an effortless balance between polished and comfort dressing, bringing some much-needed joy back into your wardrobe," Degens concludes.
From quality style staples to statement dresses, shop Trenery's latest womenswear collection here.
About Trenery
Designed for everyday luxury, Trenery is of the moment yet enduring, connecting a clean and concise sense of style with a relaxed Australian spirit. Trenery believes beauty lies in simplicity – the flattering cut and subtle details, the colour palette and fabrication. Each season, the womenswear, menswear and accessories designers seek inspiration from their daily lives, travels, and brand archives to create sophisticated, modern collections.
[Supplied article]