Get ready for a Spring day jam-packed with fun, fitness, and family bonding as Woolworths X TRI event returns with a bang!
This year, Woolworths X TRI partners with Prime View venue to bring a line-up of adventure-packed fitness challenges for the entire family, no matter your age or athletic ability, there's a category for everyone!
Kicking off on Sunday the 10th of September 2023 at Prime View in Midrand, the triathlon event will offer a range of options that suit your preferences and abilities.
Whether you're rallying the girl-gang, joining in on the fun with the family in tow or just flying solo, there's a challenge to meet your match!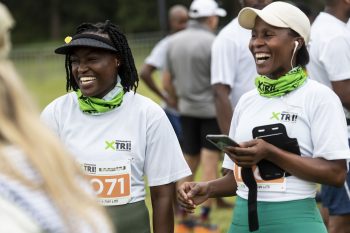 Woolworths X TRI lineup, 10 September, Midrand
Here's the lineup for the day:
9h00: X TRI Full: For the adventurers seeking more, opt for a 1000m dam swim, 27km Mtb bike ride, and a 10km trail run, solo or in teams of 2 or 3.
9h30: X TRI Lite: Embrace the challenge with a 400m dam swim, 12km Mtb bike ride, and a 5km off-road run, either solo or in teams of 2 or 3.
11h00: Run 4 Fun: Get your heart pumping with a 10km trail run.
10h00 Run 4 Fun Lite: Enjoy a 5km off-road run, perfect for walkers as well.
11h15: Walk 4 Good: Take a 3km nature walk suitable for all ages.
Calling all schools!
Calling all schools and students! Woolworths X TRI introduce an inter-schools team category, encouraging school teams to participate and compete against one another. It's not just about promoting fitness and healthy competition; it's also an opportunity to raise funds for your school and support a great cause.
The perks of participation
Woolies know how to pamper their participants! Every entrant will receive a 'X TRI Goody Bag,' filled with delightful surprises and race day essentials. And that's not all; generous prizes await the winners in all categories, with spot prizes adding an extra element of excitement to the event.
Beyond the race
Woolworths X TRI isn't just about pushing your physical limits; it's also about making a meaningful impact on society.
The event is dedicated to raising funds for the Woolworths Trust, an NPO committed to improving food security and uplifting education as part of the #zerohunger2030 initiative. By taking part in this event, you're contributing to a brighter future for our nation.
Early bird special
Why wait? Take advantage of Woolworths X TRI Early Bird special, offering 15% off on all entries until the 8th of August 2023. Don't miss out on this fantastic opportunity to save while signing up for an adventure day for the whole fam!
Stay connected
To register for this incredible event, visit Woolworths X TRI website and secure your spot today!
To stay in the loop and catch up on the latest updates, follow on Instagram and Facebook or reach out at [email protected].
Mark your calendars for September 10th, 2023, and gear up for a day of laughter, camaraderie, and unforgettable memories at Woolworths X TRI 2023.
See you at Prime View, Midrand – where adventure awaits!
ALSO SEE: 
Feature Image: Supplied