Ever noticed a break-out following a big meeting? A flair-up in sensitivity after a stressful time? Scientific research confirms this undeniable connection between brain and skin. Dr Dres Fernandes – plastic, reconstructive and cosmetic surgeon –explains:
What is current research telling us about the brain-skin connection?
New research is confirming what we have known for a long time: There's a dialogue between skin and the brain.
The skin is rich in nerves and can make adrenalin, cortisol and neuropeptides, which induce other chemical reactions and signal brain pathways. One of the neuropeptides is Substance P. It can be induced in the skin by mental stress and then aggravate conditions such as eczema, acne and rosacea.  Other chemicals are responsible for causing an itchy sensation.
We are all very aware of how the stress of exams can exacerbate acne through the dominance of cortisol and Substance P acting on the sebaceous glands, but perhaps the most dramatic demonstration of the skin-brain axis could be the sudden development of alopecia totalis, a condition where someone's hair falls out overnight.
We don't understand this well enough but, ultimately, neural pathways are involved.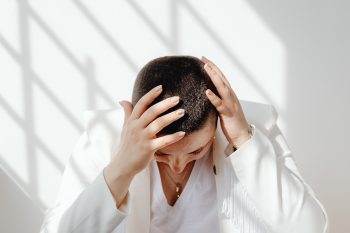 How can we support our skin when it is stressed and reactive?
The best, and most reliable, way is to apply cosmetic products that contain chemicals that will soothe the skin. Neurophroline is a good example of a molecule that can de-stress the skin by inhibiting the production of cortisol, and promote the release of endorphins that help to relax skin neuropeptides.
For example, Argireline Amplified can relax muscles of facial animation and also signal to the brain and induce further relaxation. While excessive muscular movement is controlled, peptides can help smooth out skin. Peptides such as Matrixyl Morphomics can target deep layers of skin and firm it up.
Antioxidants are also important to reduce chemical stress in skin, and we are attracted to the properties of malachite extract as an antioxidant and de-stressor. Lastly, never underestimate the value of a relaxing massage!
ALSO SEE: Women's Month spoils! Grab these spa deals under R300
Are there any ingredients that will only exasperate problems such as psoriasis, eczema and acne?
This is a very broad topic that all cosmetic formulators are well aware of. Without saying too much, I will remind you that some chemicals are confusing – for example, vitamin A is listed as comedogenic (tending to cause blackheads by blocking pores), yet it is the most powerful way to control acne and generally always forms part of a successful treatment of acne. This highlights why there is an art, as well as a science, to making the best skincare products.
Are there any foods we should eat more of or avoid during a stressful period?
This is a contentious issue, but I will recommend that people restrict their exposure to sugars and high glycaemic carbs. Antioxidant-rich foods should also help the skin to cope better with free radicals that may be induced by stress.
ALSO SEE: Grow your own first aid kit in your garden with these foods
What would you recommend we implement in our lives to minimise the negative effects on our skin?
I believe an important point when discussing stress is how we react to stress.
Stress causes the release of cortisol, adrenalin in our skin and this can be responsible for a loss of radiance and healthy appearance. It's extremely difficult to control how stressed we get, but fortunately, we can get molecules (from products) that help the skin control the effects of cortisol and other stressing chemicals in the body. This promotes relaxation of the skin, which in turn feeds back soothing messages to the brain.
We can best do this by applying selected ingredients on to our skin at night, when repair mechanisms are active.
ALSO SEE:
Feature Image: Pexels