From the sands of the Middle East, Crayon Artel ushers in a new era of hand-knotted Persian carpets, and the next evolutionary cycle of the time-honoured craft.
Who are the pioneers that find themselves at the seemingly ironic intersection of ancient craftsmanship and contemporary design, turning art into carpets with flair?
Cue Crayon Artel
Crayon Artel may weave a story that connects continents; however, its origins bare South African roots. Founded in 2020 by two childhood friends from South Africa, the idea to use the same 2,500 year-old Persian carpet-making technique to breathe contemporary art into the places we least expect, was born.
"When we started this business, Iran was already an incredibly complicated environment to work within. Now, the situation is even more challenging. We don't anticipate it will get easier any time soon. However, the Persian carpet is the most well-established carpet of them all, and the only place to make what we are making is in Iran," says Edward Wakefield, co-founder of the company.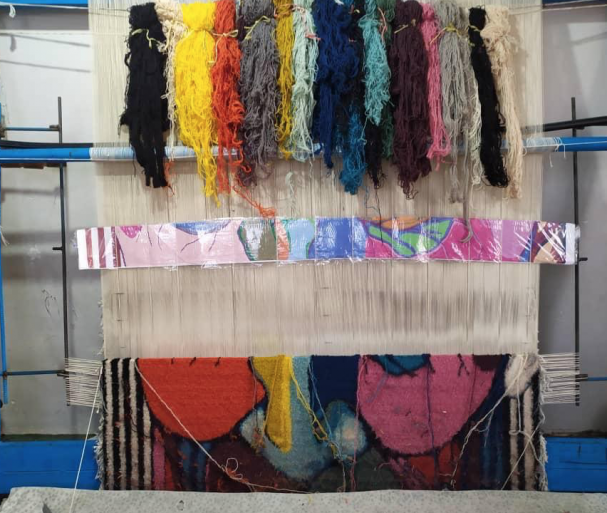 The art of the carpet
Single-edition works of art are created through the rendering of millions of hand-tied wool and silk knots. When weaving the carpets, Crayon Artel uses the same technique that was used to create the oldest carpet ever discovered. The materials in the Pazyryk carpet, discovered in the Altai Mountains in Siberia, in the late 1940s, were dyed, by hand, using dried insects, plants, and natural minerals — the same way in which Crayon Artel dyes their wools and silks to match the colours of the designs.
Stories woven into carpets
Decor trends for the 2020s have seen a striking move toward bespoke pieces that stand as storytelling pieces. Whether these are of the artist that created them, of culture, or of us, it goes without saying that statement pieces are the new minimalism.
The essence of Crayon Artel is collaboration — between contemporary artists and traditional craftspeople. Some of the team's upcoming projects include collaborations with local artists from Cape Town, and Johannesburg, as well as with many other artists from countries including, but not limited to, Germany, Italy, London, Ukraine, France, Zimbabwe, Turkey, Romania, and, of course, Iran.
When it comes to sourcing ideas and designs, the team shares that they're inspired by paintings and drawings, both old and new. The inspiration is everywhere—photography, academia, history, science, nature, and "anything else that makes you look twice, and challenges how you perceive things," says Wakefield.
"Although this project falls under the umbrella of interior design, it is more accurate to frame it as art. Historically, handmade carpets have been considered to be 'letters to the future' – capturing moments in time, ideas, and dreams (traditionally through symbolism). As with a lot of art, the purpose of this project is not simply to make aesthetically-pleasing carpets, but rather to deliver a message and convey ideas, whether philosophical, intellectual, or political," continues Wakefield.
A new canvas
"To a large extent, Crayon Artel was born out of my frustration with the mass production and falsified rarity of the fashion industry. I wanted to create something that was the antithesis of that," says Wakefield.
In addition to the carpets that Crayon Artel creates for their 'Collections,' they also offer their craft to private clients — matching their style and vision to the design of the final product, and bringing it to life first through the hands of a selected illustrative artist, and then through the hands of generational weavers.
The London-based company is now gearing up to release their first collection, a collaboration with Polish/German artist, Anna Walach, after almost eight months in the making.
Crayon Artel's Premier Showstopper
Crayon Artel's premier carpet, dubbed 'Mr Happy Face' is currently available at a fine art gallery in Chelsea, London, for upwards of R200,000.
"When I tell people that we make Persian carpets, they seem to often think that I am talking about DIY tufted carpets — the ones that have become so popular over the past year or so. But the difference between our carpets and those is enormous. It's Pep to Hermés," says Wakefield.
"It's hard to relay this quality through images. Textiles need to be touched to be understood," said David Mahouti, co-founder of Crayon Artel. "By May 2023 we will be releasing nine new carpets. We are really looking forward to this, as it has taken us over two years to get to this stage where we are able to release a collection of different carpets, made by different artists — opposed to just one carpet at a time, as and when we had the resources, as it was right in the beginning."
"The other day, I saw that the CEO of Bottega Veneta had said, 'We count days, not hours, to make our products.' Well, we count months to make our products. They have been proven, time and time again, to last more than a hundred years," adds Wakefield.
The Crayon Artel team is currently preparing for and scheduling projects for next year, and invites those that are interested in exploring the previously inaccessible medium to get in touch via their website, or at [email protected].
ALSO SEE: 
Feature Image: Crayon Artel