Getting up in the morning can be a real drag, but rising a little earlier can offer a unique opportunity to prime your brain for a successful day ahead. We chat to productivity coach Lexi Frame about how to take advantage of your mornings…
For most of us, mornings are madness. From the moment that alarm goes off it can feel like one blurry rush to get up and get ready: Finding the right outfit to wear, wrangling your bed hair into something presentable, getting little ones up and fighting with their hair too, breakfast to be made (and eaten!), bags to be packed, trying to locate the car keys, sitting in traffic and at some point finding yourself at work wondering how on earth you managed to get there.
In the book, What the Most Successful People Do Before Breakfast, Laura Vanderkam writes:
"The madness of mornings is a key reason most of us believe we have no time. We have time, but it's consumed by sound and fury that culminates in few accomplishments beyond getting out the door."
But they don't have to be this way. Mornings can be a joyous time, a time dedicated to healthy habits, growth and sanctuary. It can be a time where daily victories are achieved and your mind made ready for a successful day.
Why mornings? "I can't write in my journal quietly at 8:15 am on preschool mornings, or lift weights, but I can at 6:15 am," says Laura. In the stereotypical day, it is mornings that offer us the most control over our schedule and one of the only times when the rush of the world cannot yet reach us.
To help us make the most of our mornings, we called on productivity coach Lexi Frame. Lexi is the superwoman of bringing order to chaos, turning dreams into plans, and sparking motivation. She runs her own business, The Game Plan Girl, where she helps people build daily structures and productive work systems. Here's her guide to reclaiming your mornings:
ALSO SEE: Sleep like you're in a luxury hotel bed every night, with white bedding
Ritual vs routine
The first step to creating your morning routine, suggests Lexi, is to do away the word 'routine'.
"In my opinion, routines are rigid and boring. And that's not what you want for the start of your day. I like to call it a morning ritual – rituals are sacred and intentional. That simple shift makes it something to look forward to and something for yourself, not something you have to do."
If you're going to shift your mornings from rushing chaos to peaceful and powerful, you need to make it about you. Your morning ritual should be something to look forward to – remember, you are doing this for your benefit. Don't make it a chore, make it time dedicated to you, to better the rest of your day. This shift in perspective will help you get going.
ALSO SEE: 5 mornings rituals to get you up in the winter
Elements of a successful morning ritual
When it comes to creating a good morning ritual, Lexi says there are just two key elements:
1. Align actions to your own goals and needs, not anyone else's.
This is your morning and your ritual, make it about you and make it work for you! Not a fan of meditating? Don't do it, try journaling instead. Love your morning brew? Don't give it up! "It shouldn't be some crazy long thing filled with a bunch of actions you hate doing," says Lexi. As long as your actions are wholesome and encouraging, you're doing it right.
2. Flexibility
"If there is one thing certain in life, it's change. We are constantly changing – our energy, cycle, moods, seasons, needs. Your ritual needs to change with you," says Lexi. There is a misconception that creating a ritual means doing the same thing every single day, forever. That's impossible! Be gentle with who you are and where you are at, and don't be afraid of a little change.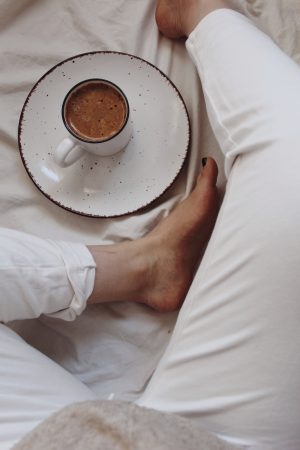 So what about waking up… Do we have to get up before the sun to achieve a highly successful morning ritual?
"Yes, we have to wake up! But no, you don't have to wake up at 5 am to do a morning ritual – this is productivity thinking from the '80s and '90s," Lexi says.
This is about you. The time you have and the type of person you are should dictate how early you wake up.
"Early birds love mornings, but struggle to stay up late. Night owls do their best work at night, but cannot get up early. So we can't force ourselves to get up if our bodies aren't meant to, and it's important to be real with yourself about which one you are."
If you're a night owl, you and your body will hate being forced to wake up at 5 am! Don't feel guilty with that, work with the time you have instead. Anything is always better than nothing at all. Even dedicating just 15 minutes to starting your day right can make a difference to your mood, your energy and – ultimately – your day.
The morning menu
To reclaim her own mornings, Lexi came up with The Morning Menu, a method for creating a ritual based on actions you love, aligned to how you would like to feel when your day begins.
Set your 'feel' goals
These are three to six things you'd like to feel in the morning. Usually a morning ritual focuses on actions, but shifting the focus on how you want to feel – the reason why you would do a particular action – creates a better base.
"Decide how you want to feel, then choose the actions that will get you there." Some examples of feel goals are 'calm', 'energised' or 'comfort'.
Build your menu with actions
Now that you have your feel goals, you need to decide on the actions to get you there. Under each 'feel goal', place a few action options, so you can pick and choose depending on life at that moment. For example, under 'energised', you might have the actions 'brisk walk' and 'swim in the ocean'.
If it is a bitterly cold winter morning, the likelihood of you getting up for a swim might be a little dim – so go for a walk instead. Both will achieve the feel goal of 'energised', they are simply different ways to get there depending on, well, ever-changing life!
Create your own ritual
Plan your ritual a week at a time – that way, you can keep it flexible. Don't overwhelm yourself either. Start with just three feel goals and a correlating action for each. Place them in the order you'll perform them in and be mindful of the time each one will take.
Each week, play around with other parts of the menu to find what's right for you. The Morning Menu is made for flexibility. Another tip from Lexi is to be purposeful and intentional, to set yourself up for success. Block the time off in your calendar so that it feels more official, and you're more likely to commit this way.
"I think it's important to know what your ritual is for the next day. Be clear about that before you go to bed, write it down when you're wrapping up your day."
ALSO SEE: 
Feature Image: Pexels