Your smile is your most essential accessory — it's what expresses your confidence and beauty, and what everyone notices first! No one lives and breathes this more than Cape Town's very own cosmetic dentist Dr JJ Serfontein of JJS Dentistry.
JJS Dentistry is a world-renowned dental practice with two conveniently situated locations in Cape Town and Durbanville. At the heart of the practice is Cape Town dentist Dr JJ Serfontein, a dentist extraordinaire with a flair for using innovative and creative dentistry techniques to enhance, restore and design smiles.
Dr Serfontein has been providing premium dental treatments to both local and international patients for over a decade. With various local and international affiliations, he has extensive experience that has allowed him to perfect his technique and gain more knowledge in advanced dentistry.
Transform your smile!
With a dedication to helping his patients achieve spectacular smiles, Dr. Serfontein offers a range of cosmetic and restorative dental treatments, including teeth whitening, smile makeovers, dental implants and clear aligners. He can transform your smile in just a few appointments, using the latest dental technology and his state-of-the-art equipment!
Dr. Serfontein says:
"Through my extensive and holistic dental approach, I help each patient look and feel their best, optimising their health benefits,"
"I have made it my mission to keep up to date with technology and practices for cosmetic dentistry to full mouth reconstruction, and everything in between."
Not just a leading cosmetic dentist, Dr Serfontein has significantly impacted the dental industry in South Africa. He has worked tirelessly to elevate the standard of dental care and ensure his practice meets international standards.
"Innovation and Creativity are key principals at JJS Dentistry — dentistry is the junction where art meets science, so we incorporate modern, advanced technology and techniques with advanced technical skills and artistic flair to create a stunning smile that will last till you're 90 years old," shares Dr Serfontein.
As a result, he has become a trusted name in the industry worldwide.
It's like visiting a luxe boutique!
Stepping into the JJS Dentistry practices, it feels less like going to the dentist and instead entering a luxurious boutique, complete with stunning views and inviting interiors that make you want to lie in the dentist's chair. You can enjoy a treat while you wait to be seen and watch Netflix during your appointment.
Dr Serfontein and his team go above and beyond to ensure their patients feel comfortable and relaxed during their visits. His staff are exceptionally skilled and provide a unique dental experience.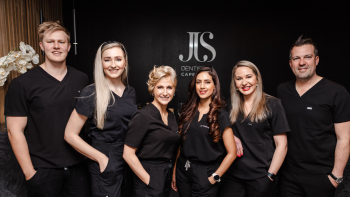 "I intend to create a superior facility for patients who understand this concept and who dedicate themselves to working with us on their dental journey," says Dr Serfontein. "Over the years, I have worked on hundreds of smiles and found that when you're genuinely passionate about what you do — it shows in the finished product."
No matter your concern, the team at JJS Dentistry can assist you. Whether you need a simple fix or a more extensive treatment, visit the V&A Waterfront practice or the Vineyards practice in Durbanville for all your dental needs.
With JJS Dentistry, you'll not only get the best cosmetic dental treatments both locally and internationally, but you also get a personalised, luxury experience that you won't find anywhere else. Schedule a consultation at one of JJS Dentistry's practices to design your dream smile.
Dr Serfontein adds: "I have learnt over the years that you can't put a price on excellent health. Maintaining a good quality of life will be the ultimate luxury in the future."
At JJS Dentistry, they don't just improve smiles, they change lives.
Follow JJS Dentistry on: Facebook, Twitter and Instagram.
Visit their website.
ALSO SEE:
Groundbreaking Artificial Intelligence (AI) tech helps paralyzed man walk again by using his thoughts
Feature Image: Supplied