For novelist Tess Stimson, life after half a century is the best it's ever been – and it's all because she set a few gleeful laws to live by. Here's her (wo)manifesto…
"By any measure, 50 is a milestone birthday. Even the most optimistic among us have to admit we've probably passed life's halfway point by now.
At 40, you can still tell yourself you're young, but by 50 there's no denying that you're middle-aged. I need my glasses to read the label on the pills for my sciatica, and when I drop something on the floor, I hesitate before I pick it up while I work out what else I can do while I'm down there. But I've found life after 50 is also strangely liberating.
My primary evolutionary function – procreation – is over. The baby ship has well and truly sailed, so there's no more dithering about whether to have just one more before it's too late. I have a career that I love and a husband, Erik, 52, who I adore, but my three children, Henry, 28, Matt, 25, and Lily, 20, have all flown the nest, and time seems to be passing ever more quickly.
So, on turning 50 last summer, I made a few light-hearted rules to make sure I don't waste a single minute.
Dress for comfort
Sure, six-inch heels make your legs look endless. But they're also bloody crippling. Fortunately, the fashion for box-fresh white trainers with dresses means I can bin my stilettos and still look bang on-trend. I've also ditched thongs (like wearing cheese wire) and shapewear (when did you last see a man worrying about his wobbly bits?). I love fashion, but I'm done with suffering for it.
Ditch the 'stuff'
Sorting through my parents' things after they died taught me that, sooner or later, someone will pick up that must-have souvenir I brought back from Rio de Janeiro and ask, 'Keep, donate, or bin?' I'm sick of stuff.
When Erik and I moved house during the pandemic, we got rid of two-thirds of everything we owned, and we still have way more than we need. Now, if I bring something into the house, something else has to go. I'm not going to lumber our kids with sorting through endless boxes.
Forget the FOMO
Who knows how many New Year's Eves I have left in my life, but I'm not planning to stay up until midnight to see in another New Year. I'm not in my 40s any more, desperately grasping at the last vestiges of youth. I can finally admit I'd rather be home watching series with my lovely hubby than partying into the night.
Every day is the best
That expensive candle you were given as a house-warming gift? Just light it. Use the dinner plates – so what if one gets broken? Wear that gorgeous dress to the pub because who knows how many chances you'll have to wear it again?
Out with the diets
I've accepted that I'll never have the same body at 50 that I did at 25. According to the French, after 40 you have to choose between your face and your figure, so I'll have that chocolate eclair, thank you. My body looks a little lived-in, but I've made my peace with that. As Erik says, if I was a car, I'd be a classic by now.
Let it go
Let go of the fear of failure. I've learnt that the only things you really regret are missed opportunities: the times you didn't try. Let go of the mistakes you made. You can't change them, so stop beating yourself up. Let go of the pressure to keep up with the latest trends. It's okay to leave it to the kids.
No more 'shoulds'
If a book doesn't grab me within the first 30 pages, I'm done, no matter how many bestseller lists it's topped. And I don't care how cool it is: I hate jazz. And skiing! I spent decades learning how to ski. I still don't like it so I'm not going to do it any more. How liberating is that?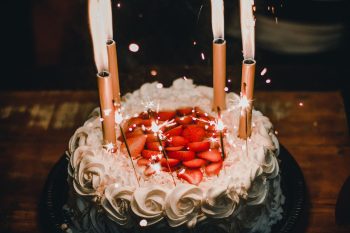 Redefine success
When I was 25 and published my first novel, I thought I would have won an Oscar for Best Screenplay by the time I turned 50. I've published 17 books since then and earned a modest living. No one's going to be studying my novels at school, but I've had a fabulous time working from home doing something I love and raising three kids. If no one remembers my name but them, that's fine with me.
Prune your friendships
Friendships have a natural lifespan. The woman with whom you bonded when you were both the parents of five-year-olds may have nothing in common with you now that the children are at university, and that's okay. Be grateful for the time that you had together and allow the friendship to wither naturally and be replaced by new ones.
Get spending
It's time to SKI. By that I mean Spend the Kids' Inheritance. Erik and I don't plan to blow the lot, but we'd rather spend our money on the kids now than leave it to them later. My parents both died young, before they could enjoy retirement. I don't want to make that mistake. I used to dread turning 50. But so far it's turned out to be the best decade of my life."
ALSO SEE: 
Feature Image: Pexels